The Royal Institution provides Camilla with a highly successful PIPS placement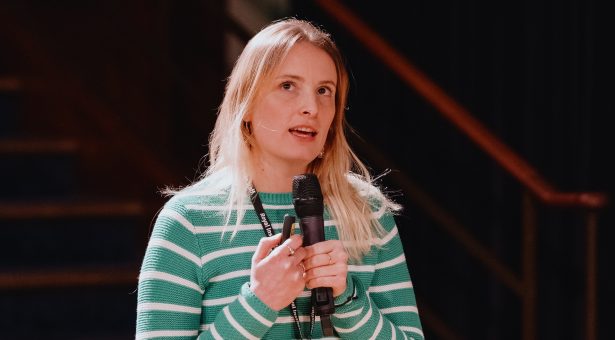 Camilla Molinari, a student based at TSL, had undertaken some outreach activities in a Cromer school during her undergraduate degree and wanted to use her PIPS to develop her skills further in outreach and science communication. She saw an advert for the internship scheme at the Royal Institution (Ri) and so applied. After undergoing an interview process involving a 45-minute panel questioning her previous relevant experience and transferable skills she was subsequently awarded a placement.
The placement took place from January to March of Camilla's third year. Camilla found this timing to work well as she had arranged to submit some samples for analysis externally so had to wait for the results which took over a month.
The placement was primarily focussed on providing support for the Family Fun Day which involved two key talks and associated outreach activities spanning STEMM on the theme of 'Inventions'. Camilla helped come up with ideas of what activities could be delivered. The actual Fun Day was mid-point through the PIPS so Camilla spent several weeks planning, sourcing equipment, including writing activity sheets for the volunteers to follow when running the activities and designing the floor plan. On the day of the event, she had a primary role of co-ordinating around 20 volunteers including covering activities during lunch-break. Camilla got most enjoyment out of running some of the activities and directly interacting with the school-aged children. More than 400 people attended the event.
Peter Gallivan, Family Programmes Manager, at The Ri said "It was fantastic having Camilla as part of the Education team here at the Ri for her placement. She contributed lots of creative ideas to our programmes, providing lots of exciting experiences for the young people (and adults!) who came to these. Camilla worked on a wide variety of projects during her time with us, and worked well through difficulties when they came up too. I wish her well with finishing her PhD and hope she finds the skills she learned with us transfer over to her life as a PhD student too."
Another responsibility during the internship was to help with workshops for the L'Oreal Young School Centre which involved a lab for 7-17 year old students to try out different research techniques across a range of disciplines. She also delivered presentations on her PhD research to A-level students attending the workshops, and supported an Ri/Genetic Society collaborative event 'For Your Inspiration (FYI): 'Careers in Genetics' where she was on the panel of researchers for a Q&A focused on families, with the aim to inspire teenagers to undertake science degrees. Camilla helped organise the evening, co-ordinating exhibitors from different HEIs and lab groups across genetic research fields. She also presented an activity related to the GMO work undertaken at TSL.
All of the activities were reviewed and evaluated so that they could be run again more effectively. Camilla learnt the need for 'overpreparation' to allow for any eventuality and the need for comprehensive planning and recording information so that the activities were transparent and reproducible in the future. Camilla felt her organisational skills and record keeping had improved as a result. Camilla also learnt how to communicate with a wide variety of collaborators and the importance of interpersonal skills to negotiate and manage expectations between stakeholders around events.
Camilla felt she learnt a lot about the value of creative social media in science communication, writing several blogs and producing some Tik Tok content, something she really enjoyed. She hopes to continue collaborating with the Ri on some future blogs. You can read these here and here.
Camilla felt proudest of the positive feedback she received both from her line-manager regarding her overall contribution to the Ri events but also from some of the participating students who had engaged with several of the activities and seemed to be truly inspired and engaged. She really enjoyed the practical aspect of delivering to different age groups but also learnt a lot from attending a wider meeting of all outreach Family programme managers from different London-based museums to share practice. "I think I have a better understanding on how to communicate science with the general public and I understand the process to organise events and coordinate people" reflects Camilla.
Overall, Camilla found her placement to be a very positive experience and it has helped shape her career aspirations. "I feel science communication is definitely something I might consider pursuing in the future or at least participate more in through my career" she says. "This is an amazing opportunity to leave what you know what to do a side and gain an incredible set of skills which will benefit your future" she concludes.