Freya delivers keynote at NERC public engagement event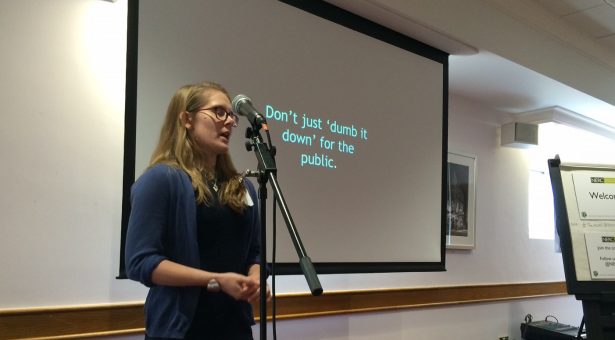 Freya Varden, a DTP PhD student at the John Innes Centre, was invited to give a keynote speech at an event recently hosted by NERC. On 22nd September, NERC launched a funding initiative to engage the public with contemporary issues in environmental science (climate change, fracking etc.) This is the first activity under their new Public Engagement Strategy, with further activity planned in future years.
To set the tone, a call information event in Birmingham was held for potential applicants. Freya was invited to be a keynote speaker to an audience of around 60-70 people and asked to talk about her PIPS experiences and then sit on a panel for Q&A. Freya spoke alongside Professor Helen Sang, from the University of Edinburgh, and Professor Joe Smith, from The Open University.
Freya's talk was well received and a couple of people even tweeted some of the things she had said, quoting her saying "kids think they can't do #science if they aren't smartest in class. We need to change this!"
Hannah King, the Public Engagement Officer at NERC said after the event that they had had lots of positive feedback, which was a testament to Freya's contribution in speaking with clarity, confidence and humour about her on-the-ground experiences. "We wanted to give the delegates food for thought for the call, and Freya's talk provided an excellent example of what the training aspect of the projects could potentially achieve".
From a personal point of view, Freya found it was great experience to enable her to network with others who have an interest in public engagement. There were delegates from community partners such as the National Trust attending, as well as NERC researchers. Although Freya is funded by the BBSRC, not NERC, she found it encouraging to see that researchers from all fields of science have common aims regarding communication with the public.
Overall, Freya found this a very positive experience and it is inspiring her to push forward with her interest in public engagement.