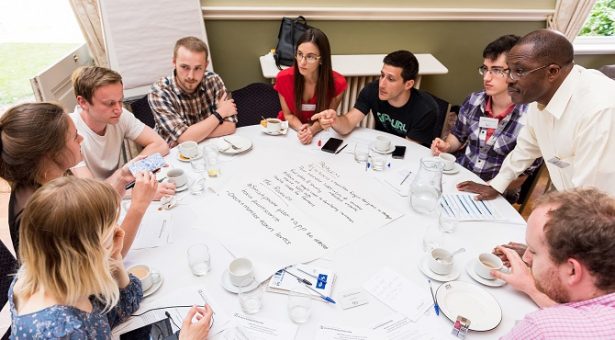 Cohort meetings: These meetings allow NRPDTP students to share experiences, both in terms of their research and other activities such as their placements. They provide the opportunity to build strong professional and friendship networks.
Cohort masterclasses: Working with our Associate Partners, industry, business and entrepreneurial contacts students take a series of masterclasses. Year 1: Generating and Protecting Knowledge. Year 2: Communication – Who is my Audience? Year 3: Working Across Disciplines. Through the masterclasses, students have the opportunity to gain additional skills in communication, adaptability and personal effectiveness, critical thinking, creativity, problem solving, research management, and engagement and impact.
Summer conferences: Our main cross-cohort events bringing all NRPDTP students together. The conference is organised together with the Year 3 cohort and provides the opportunity for this cohort to showcase their research through a poster session. The conferences are delivered with the support of our Associate Partners and business and industry representatives, to promote outward-looking and inclusive attitudes. Previous conferences have included research presentations and interactive workshops in infographics and solving societal challenges.
Advanced specialist skills training: In addition to training delivered within the research environment, NRPDTP students undertake essential advanced specialist skills training to support their studies.
(i) Research and Publishing Ethics and Integrity: A one-day interactive workshop held in Year 1, covers research and publishing misconduct, research culture, integrity and practice.
(ii) Statistical Analysis and Experimental Design: In Year 1, covers essential principles of statistical modelling in 'R' and other commonly used statistical packages together with an interactive session on key principles and importance of experimental design.
(iii) Computational Biology and Big Data Science: A one-day interactive training course delivered within Year 1 gives a broad introduction to applying quantitative and computational techniques.
(iv) Innovation and Entrepreneurial Skills (1): A Year 1, one-day interactive training module that focusses on recognising an innovative idea with potential impact.
(v) Global Citizenship, Widening Participation, Equality, Diversity and Inclusion: during Years 1-3, all NRPDTP students choose and undertake an activity in one of these areas.
(vi) NRPDTP-specific elective training modules: In Years 2-3 each student selects two elements from the following:
Innovation and Entrepreneurial Skills(2): follow-on training from the Year 1 session, to recognise and foster the acquisition of transferable skills for business and industry
Scientific Policy Making: how scientists can engage effectively with policy makers
Effective Engagement: mechanisms to engage successfully with diverse audiences
Artificial Intelligence and Advanced Digital Literacy: introduction to cutting-edge and ethical developments in artificial intelligence and core concepts in machine learning
Adaptive Decision Making: understanding the positive role of diverse views and of diversity in general
Placement Training: NRPDTP students undertake a three-month Professional Internships for PhD Students (PIPS) placement in a setting that is unrelated to their PhD project. CASE students work with their non-academic partner for a period of between three and eighteen months.
A well-resourced, dedicated team supports studentship placements (PIPS and CASE). Students are mentored through all aspects of their placements and training includes skills-CV and covering letter preparation and effective networking, prior to the NRPDTP Employer Forum.