Sonia Paz travels to Denmark and the USA for PIPS with Sophion Bioscience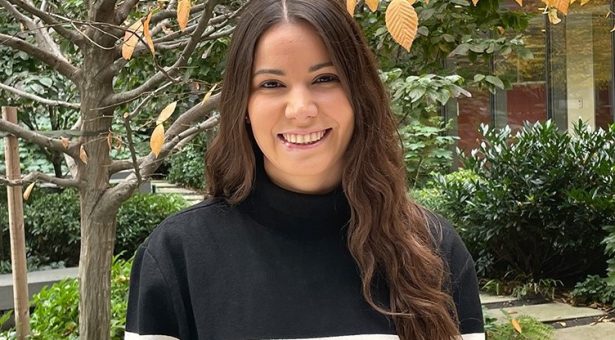 Sonia Paz, a student based at the UEA, wanted to explore the possibility of doing pharmacological-related science in a biotech company. Sonia undertook her PIPS with Sophion Bioscience a Biotech company whose HQ is in Demark and has research labs in Boston USA and was supported in part by a Sophion Research Grant. The company specializes in the development of automated electrophysiology platforms to measure ionic currents in cells. Sonia had met a representative from the company at a conference in Cambridge and got in touch with them via LinkedIn to explore the opportunity for placement.
Sonia started the placement in Denmark, with training into cell culture SOPs used by the company and how to use different machines. Sonia was able to pick up new methods and information relatively easily and was involved in meetings to explore mini-projects prior to relocation to Boston to use their unique cell model. Sonia was also involved in data analysis and preparing test reports and presentations for internal use and for potential publication. As well as this, Sonia attended meetings with different teams and completed some marketing tasks such as posting material on LinkedIn.
This was Sonia's first time in a commercial research environment, and she recognised that compared to academia they were very goal orientated, providing better value to customers rather than just focusing on results. As part of this approach Sonia learnt how to use the company specific software to assess the data and assess 'success rate' of protocols. "The company has standardized ways of working in the lab and reporting the data, and I found myself much more productive working in that way. I have already started applying the acquired organization skills in my PhD project", says Sonia.
Sonia felt well-supported during her placement. She was able to organise herself day to day but had opportunities to report progress every week or two. Sonia found this more routine feedback mechanism allowed her to focus her experimental work and record it more transparently using Excel spreadsheets. Sonia is adopting this approach on return to her PhD to break down her research into more tangible tasks.
Sonia feels she gained many transferable skills as well as the technical ones during the placement. Her self-confidence increased hugely as well as her presentation and communication skills. "I had a mandatory presentation meeting every two weeks where I needed to present my data. It helped me express myself more accurately in scientific terms and get feedback from the scientific team" she says.
As Sonia spoke with company representatives from many different backgrounds she had a wider experience as she heard about their careers, which will help her when determining her next steps after her PhD.
Sonia found her placement to be a very positive experience. "My stay with Sophion was a very rich experience. I became a user of very potent pharmacological tools while, at the same time, I was in contact with people from very different backgrounds (sales, engineering, marketing)" reflects Sonia.
Sonia advises future PIPS students to make the PIPs application process part of your duties in your PhD and use the PIPS to do something you think will give value to your CV and contribute to your profile as an academic scientist. "Think about this process as it was a mock trial for when you finish your Ph.D. as you will definitely need to look for a job in or outside academia. That's a fantastic opportunity to train and practice approaching people at very different positions" she adds.
Dr David Nagy, Application Scientist & Lab Manager at Sophion and one of Sonia's supervisors during the placement said "Congratulations to Sonia Paz, our dedicated and talented intern on completing her internship with impressive scientific results, while also being incredibly receptive to learning about our company's culture and technology. Her hard work and eagerness to learn about the different roles and responsibilities within our company were truly admirable, and we couldn't be prouder of her achievements. We wish her all the best in her future endeavours and have no doubt that she will continue to achieve great things".