Sian boosts her skills profile with PIPS at Royal Botanic Gardens, Kew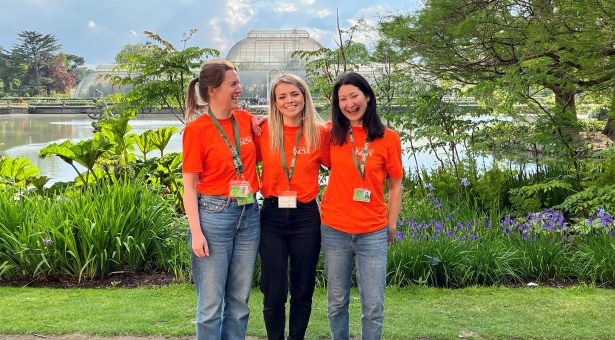 Sian Seaman, a student based at Quadram Institute Bioscience, hoped to gain more confidence in her abilities, learn new skills in science communications and event management, and gain more life experience from working in another city/organisation. Sian saw an advertisement from Royal Botanic Gardens, Kew, in the PIPS newsletter and so contacted them to arrange her placement. The original placement was cancelled due to the pandemic but Kew contacted Sian the following year to organise an alternative placement from March to May 2022.
Although the placement was originally planned for Sian's second year, she undertook it during the third year of her PhD, which she found to be excellent timing. "I had 3 years to establish myself in my PhD before I went on the placement. Being a little further on in my PhD also means that I am more mature and equipped to work in an unfamiliar location than I perhaps would've been in my first year", reflects Sian. She also found this gave her time during her PhD to think about what she enjoys the most and what she wants to pursue post-PhD and try a placement in that area.
Sian's responsibility during the internship was to help with the development, planning and execution of Kew Gardens' Community Open Week, which is a free event for under-served audiences. There were many activities and workshops available for visitors and Sian worked with the activity leads to help support their ideas and the technicalities of running them. Over 1500 people visited the event. Sian was also involved in the promotion of the event and contacted local charities and community groups to put an advert she had composed in their newsletters. Another large responsibility was designing methods to evaluate the impact of the event, and to write a report on this post-event. "Overall, I was involved in almost every step of the planning and development of the event, and worked as an event manager during the event days" says Sian.
Sian learnt a lot of additional knowledge and skills during the placement, including a greater understanding of safeguarding when managing an event and how to target an event to a specific audience. She felt her project and time-management skills improved as well as her communication skills. Sian developed her written communication skills, having to adhere to the Kew Brand when developing marketing material while applying her own creative skills. The placement was the perfect opportunity to develop her organisation skills, as Sian had to keep track of multiple jobs that needed doing and had to be extremely organised to help successfully deliver this event.
Sian gained a great deal from the placement, including a renewed sense of confidence in her own abilities. "The placement made me feel really valuable in the team and I felt really good at my role" Sian says. She also gained excellent time management and project management skills which she feels will benefit her for the rest of her PhD. Sian did a lot of the planning on Microsoft excel which further developed her IT skills. The placement didn't include experience in funding applications but Sian did apply for external funding towards expenses for the placement, and was awarded £300 from the Sir Phillip Reckett trust.
The PIPS has opened up a potential career path of interest to Sian and helped her narrow down what she would like to do after her PhD. She has established that she is particularly interested in leaving academia and doing more public-facing science, such as science communications, events or teaching.
Overall, Sian rates her PIPS placement as a very positive experience. "The things I enjoyed the most were working in such a beautiful, calming environment and working within a really friendly welcoming team", reflects Sian. She advises future PIPS students "go for something outside of your comfort zone, you will thank yourself for it and it will be such an invaluable experience".
Dr Mimi Tanimoto, Sian's supervisor at Kew, was extremely positive about how she felt the placement went. "Our team enjoyed working with Sian so much – it was great for team morale to have her enthusiastic support", says Mimi. "The additional resource and excellent work of the intern meant that we could deliver an important event to the highest standard. Sian's work also helped us to extend our reach and engage many more visitors than we had managed in previous years", she adds.