Shannon champions science with The SAW Trust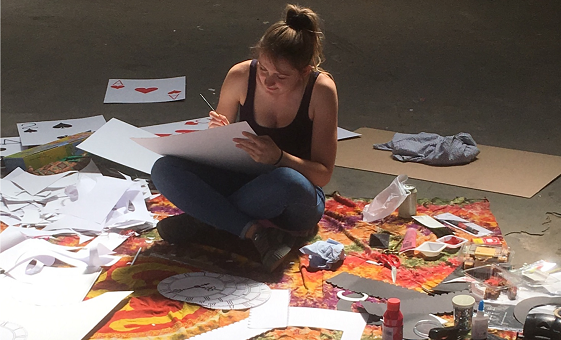 Shannon Woodhouse, a John Innes Centre student, wanted to improve her science communication skills with a role that was complementary to academia while offering a chance to interact more with the public. Shannon found what she was looking for in The SAW Trust who she spoke to at the PIPS Employer Forum. She did her placement during her first year which she found to be very beneficial because it has left her plenty of time to continue her research uninterrupted.
During the three-month placement Shannon designed, developed and tested two lesson plans for A-Level students, one bioinformatic-based and one based around synthetic biology, which were part of the SynBio for Schools project that SAW is involved in alongside OpenPlant. Shannon tested out her lesson plan at the City of Norwich School. She also helped plan, organise and deliver science stands at large events including Latitude Festival, BoomTown Fair and the Norwich Science Festival.  The stands had to be eye-catching and engaging and the science had to be pitched at the right level: the language and communication styles needing to be appropriate for the audience. Shannon also wrote blog posts for the SAW website (see one of her posts here: https://www.sawtrust.org/news/saws-latest-intern/) and assisted in the production of the SAW Newsletter for Summer and Autumn 2018.
By creating her own lesson plans, Shannon could improve upon her knowledge and her problem-solving skills. Shannon had to learn about synthetic biology in order to tie it into her lesson plan and she had to ensure the lesson was pitched at the right level for the students, taking into account what they should already know. For her, creativity was one of the skills her placement allowed her to develop the most, both through set design for the eye-catching stands that were produced for the festivals and through the development of new science, art and writing activities. Shannon also improved her organisation and time management skills as well as her verbal and written communication skills.
Shannon discovered that the SAW Trust is a fantastic team who demonstrate that you can work positively together as a group to achieve the most you can. She enjoyed interacting with people and communicating science, so much so that she is now outreach officer for the student voice committee at JIC.