Robert Johnson takes his science and creativity to Norwich Castle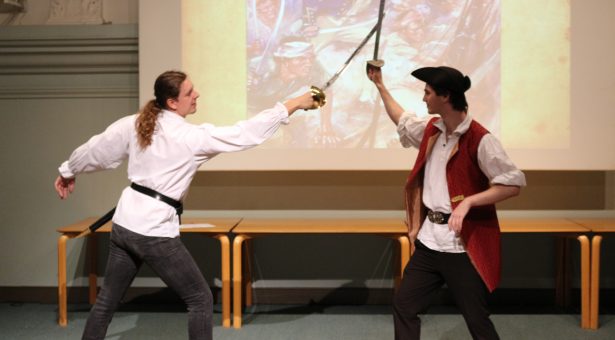 Robert Johnson takes his science and creativity to Norwich Castle
Rob Johnson, a DTP student in the School of Biological Sciences at UEA, undertook his PIPS placement at the Norwich Castle Museum. Rob undertook his placement over the summer of his second year (2017) and was responsible for designing, developing, delivering and evaluating an activity for the Summer Holiday Visitors Programme at the Castle.
After pitching a few ideas, the session that the team decided to develop was a medical history session that focused not only on the patients and treatments that an 18th century ship's surgeon would be familiar with, but additionally included a 21st century explanation of how these treatments worked, which made use of Rob's scientific background. Rob helped develop an interactive performance called Science at Sea, that dealt with general ailments of drunkenness, scurvy and concussions, as well as some more macabre injuries that would result from battle. Rob had a chance to work on his creativity as the sessions involved activities such as an arm amputation (done by retrofitting the mummy used for Egyptian sessions with an arm, that was subsequently amputated!), using jelly cubes as mock bacteria to explain how beer was safer to drink than water, taste testing various remedies for scurvy, using custard and flour to make life-like pus-filled wounds to highlight the risk of infection associated with splinters and musket wounds, and utilising a coconut as a mock patient (nicknamed Midshipman Coco) to demonstrate the procedure of trepanning, as finding willing audience volunteers to have their head drilled was surprisingly hard!
As well as planning and delivering the Summer Holiday Visitors Programme, Rob also helped develop resources for sessions and events as required. He was also able to observe and evaluate delivered sessions where possible. Another task was to liaise with curators to help develop a consultation on a new gallery.
Rob found his internship a great experience; "I've always been interested in science communication and outreach and to be able to develop my own activity, to deliver it myself and see first-hand how it was received was an amazing opportunity", reflects Rob. Whilst already confident at giving spoken presentations Rob found that his internship added an aspect of theatre to his delivery, making it more of a performance and changing the style and tone to suit a different kind of audience. The internship was a brilliant opportunity for Rob to develop his ability to communicate to a wide range of audiences, either simultaneously or consecutively. The internship also enhanced Rob's creativity and helped him see simplistic ways of modelling complex or realistic scenarios, in a way which is accessible to all. Rob also enhanced his customer care skills and gained an understanding of how the sector operates.
Rob's hosts were very impressed with his input. The Learning Manager at the Castle, Colly Muddy, said "We have been delighted with the success of the PIPS internship at Norwich Castle this year" whilst Anna McCarthy, another of Rob's hosts reflected that Rob "is an absolute star and we have all said that we would love to repeat the experience as it has had such a positive impact and made a really meaningful contribution to our activities too".
Following his PhD Rob would like to continue in academic research, but to complement this he is very interested in Science Communication and public engagement and hopes to be heavily involved in this area throughout the course of his career, so the internship has provided some great footings for this. Rob has also found that he feels better able to explore the job market, to market himself to future employers and as a whole that he has enhanced his career prospects as a result of the internship.
Overall, Rob rates his PIPS placement experience as a very positive one and advises future PIPS students to take their time when looking for a placement and to be sure to find a project that is really suited to them which they will be excited about doing.
Images copyright of Norwich Castle Museum