Remote PIPS Placement with Cambridge Cancer Genomics proves to be a highly positive experience for Anni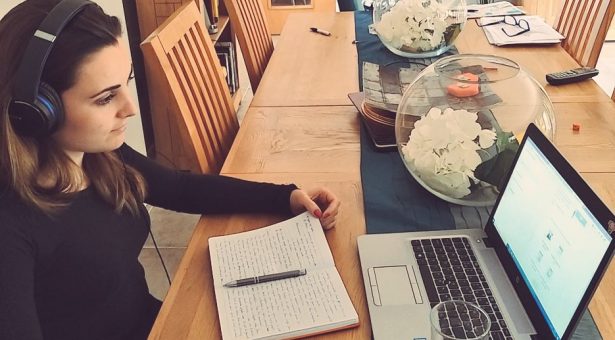 Anna Fortuny Gomez, a PIPS student based at the University of East Anglia wanted to learn something completely new. Anni also wanted to improve her self-management, communication and networking skills and was looking to do this whilst working for a small research company. After seeing an advertisement in the PIPS newsletter, Anni contacted Cambridge Cancer Genomics and arranged to undertake her placement with them. Cambridge Cancer Genomics (CCG) is a healthtech startup building tools to enable oncologists to make the best therapeutic decisions for their patients (https://www.ccg.ai/).
Anni talked to her supervisor at the outset of her PhD and agreed that when she had a solid experimental base for her research, it would be best time to do her PIPs. "By the beginning of my second year I started thinking and planning where to do my placement and decided that in spring was a good time for me", reflects Anni. The Covid-19 pandemic outbreak started the week before the placement was due to begin. However, Anni was able to work with the PIPS team and CCG to set up a remote placement and every effort was made to be sure it was the best lockdown PIPs experience possible. Anni was working remotely and never got to socialise in person with her team but found being part of a start-up was an incredible experience and was able to learn how they work and felt she benefited from their dynamic and innovative nature.
During the placement Anni was involved in developing the marketing strategy for oncOS, CCG.ai's data-driven precision oncology tool. Anni was part of the Business Development team of CCG.ai, and her main workload was marketing-related, however no one in the start-up had any direct marketing experience which was very challenging to begin with. She also undertook a market assessment for Molecular Tumour Boards, wrote two blog posts for the CCG.ai website and designed and put together infographics to promote oncOS. "I particularly enjoyed writing the two blog posts. It was a surprise when I met the communications team of CCG.ai and they offered me the opportunity to write creatively about what I wanted" says Anni. "I came up with some ideas and we discussed the best way to make them fit with the company's guidelines. Being in front of a white paper was hard to begin with but it got better as I wrote, finally having one of them published on their website was exciting!" (https://www.ccg.ai/blog/coronavirus-and-cancer).
Anni made the most of the placement and undertook two online courses aside from her PIPs workload. One was called "Fundamentals of digital marketing", which improved her knowledge base and helped her to write a complete marketing strategy for oncOS and a market assessment for Molecular Tumour Boards; both reports have already been useful for the Business Development team and will help new employees and interns in the future. The other course was called "Design and make infographics", where Anni learnt how to use Adobe Illustrator as well as how to design eye-catching infographics. Anni used the new skills that she had learnt and made infographics for CCG.ai and their platform oncOS, something which she really enjoyed.
Anni gained many skills during her placement. Working remotely for a start-up helped improve Anni's time and project management skills to an extent she hadn't thought possible. Anni felt confident about her work and always got constructive feedback, which made her feel more comfortable asking questions. Anni got new marketing and business strategy knowledge and practised creativity and thinking outside the box, as she had to come up with new ways for CCG to grab their audience's attention and stand out from their competitors. Anni learnt how to communicate effectively within different teams of the company, and also how to engage externally with their audience using different online channels and publicity. The team had virtual stand-ups every day, to explain to the rest of the group what they were working on for the week and followed up every day on how their goals were on track (or not). Anni felt this improved her synthesis, communication and team working skills. She feels that her new approach to writing and conveying information will help with her annual review report, thesis and conference presentations (esp. posters).
The main challenge for Anni was not developing the interpersonal skills that come from a face to face team experience but she is keeping in touch with everyone at CGC with the aim of physically meeting them in the future.  However, Anni found the PIPS experience extremely positive and feels is has helped her to see more career options for researchers outside the academic world, as well as helping develop a more diversified professional network. "I have taken all the opportunities I could to support my career development and make my skills stronger to be a better job candidate in the near future", says Anni. Reflecting on the placement, Anni says "Twelve weeks go really fast and you can make the most of them with the right host for you. Take your time to think what you want to get out of this, ask questions and disconnect totally from your PhD. When you look back you will feel proud of what you have achieved!"