Raven is inspired by PIPS placement at Royal Botanic Gardens Kew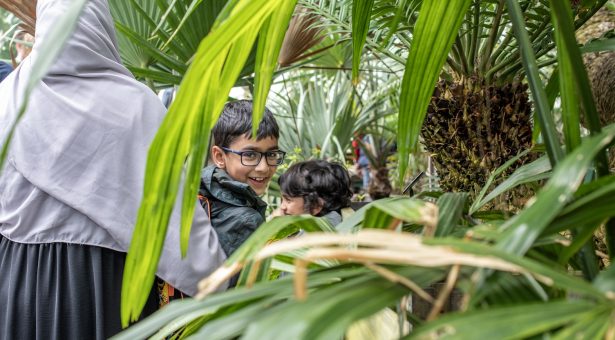 Raven Reynolds, a student based at QIB, undertook her PIPS at the Royal Botanic Gardens Kew as a Communications and Operations assistant manager in the Learning and Participation department after seeing the opportunity advertised in the PIPS newsletter. Raven was keen to get experience in event planning and management as a complete change from her lab-based PhD and hoped to gain clarity on what she wants to do post PhD.
Raven started her placement in March 2023, during her third year, which she found to be excellent timing.
Raven worked in a sub-team of 5 people organising and facilitating the Community Open Week, the theme of which was Sustainability, aimed at providing access to under-represented community groups to Kew. Her role included planning the daily events, ordering and purchasing consumables and equipment, supporting other interns facilitating to 'fine-tune' their sessions, and post-event evaluation. Raven also helped promote the event through getting in contact with and joining meetings and forums run by London councils, meeting face to face with community groups, distributing flyers and emailing organisations who support underrepresented groups in the community. Over 5400 people attended the event.
The overwhelming positive of the placement for Raven was the impact the event had on the people who attended, which included under-represented groups such as people with English as an Additional Language, refugees, blind and Deaf community groups and people living with dementia. Raven found this had a significant emotional impact on her too as a result, giving her a huge sense of satisfaction and fulfilment.
Raven was able to apply many of the transferable skills from her PhD and develop these, such as project planning skills, budget oversight and in-depth evaluation. She commented that the team were amazed that she could work so fast and under pressure. Raven felt she learnt a lot about communicating with different audiences both orally and in writing, having to adapt the type and level of information she presented to keep everyone engaged.
Raven developed her interpersonal skills supporting the other interns with their public speaking. She had to produce a written evaluation report that involved using qualitative and quantitative evidence and was able to suggest to the team as part of the event planning that they should include more opportunities to capture quantitative data so that the statistics could be used to support future grant applications. They also considered how they could capture data on different demographics. This made her more aware of the importance of inclusivity/accessibility when planning events.
As well as communication skills and organisational/project planning skills Raven gained an insight into the funding structure of educational organisations. Her self-confidence also increased as did her presentation and team working skills.
Raven enjoyed all aspects of her PIPS experience and felt she was supported throughout. "I successfully event managed a 5-day long event which brought in 5,441 visitors from underrepresented communities which was over triple the number that was expected" reflects Raven. "I enjoyed working as part of a team to extend Kew's reach and inspire people to protect the natural world in a way that was inclusive and accessible."
The experience has helped Raven solidify her career intentions and she is now certain that she doesn't want to stay in academia. "It was such an eye opening and inspiring experience. ….I have felt really fulfilled in work I've done…. It opened up my eyes to what I really enjoy and what opportunities there are out there for me post PhD".
Eleanor Cocks, the Community and Access Learning Manager said "Raven brought incredible passion and hard work to the internship and helped us to make the event our biggest and best yet. She became a valued member of the team and we wished she could have stayed longer."
Raven advises future PIPS students to use this opportunity to do something completely different to what you are used to, to get a real sense of not just what you do want but also what you don't want in a future career.