Mellieha advances her talents with ssDNAfrica and Pwani University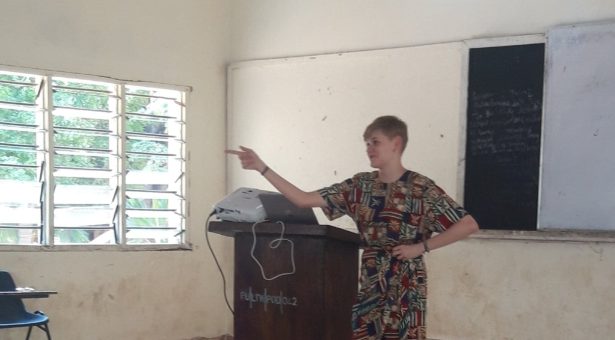 Mellieha Allen, a student based at the UEA, undertook her PIPS with ssDNAfrica at the beginning of 2022, with the first half remote working from the UK and the second half at Pwani University in Kenya. Mellieha is a keen traveller and wanted to learn more about teaching in the HE context internationally through her PIPS so spoke to ssDNAfrica at the Employer Forum to set up her placement with them.
Mellieha developed a training programme for around 25 Pwani students, focused on teaching the basics of computational processing including programming to enable students to develop an App with potential for commercialisation. The aim was to help the local agricultural community through the introduction of mobile technology, such as Apps related to disease prediction, soil quality, buying/selling and price comparison. Mellieha also provided training in business development.
Mellieha had limited programming ability prior to her PIPS so taught herself all of the relevant IT skills, using applications such as Android studio teaching modules, in order to pass this knowledge to her students. "I very much enjoyed the challenge of setting and planning a series of lessons on a subject I wasn't very familiar. I certainly became competent at Kotlin coding, which I hadn't learned before", reflects Mellieha.
As well as gaining technical skills, planning the lessons and practical activities improved Mellieha's creativity in teaching. As she was solely responsible for running the workshop, her organisational skills had to be very good. Mellieha felt her confidence in her teaching ability improved through the placement, developing a greater understanding of engaging students with different frame of reference to UK students. "I felt much more confident communicating across cultures, as I had to really consider the different experiences and values of my audience to craft an effective message", reflects Mellieha.
Mellieha really liked feeling valued for her contributions to the training programme with thanks expressed frequently by staff and students and she recognised that she needs external praise and feedback to motivate her to work. She also liked seeing real-time student progression and feeling that they were benefitting from her input. Mellieha learnt some basic Swahili via Duolingo prior to the placement and developed her language skills on placement.
Mellieha rates her PIPS placement experience as being very positive. Her advice to future PIPS students is to "Be brave, try something utterly new and you'll be surprised how quickly you learn".