Melissa gains business experience with a PIPS at Hethel Innovation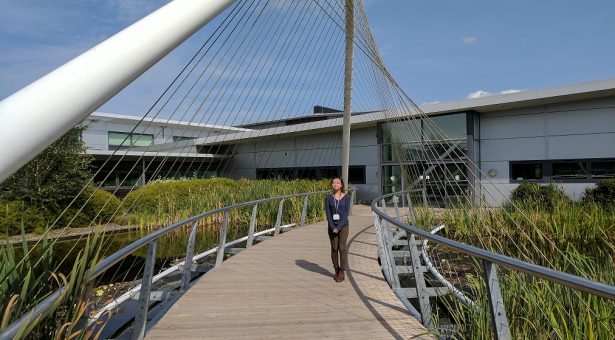 Melissa gains business experience with a PIPS at Hethel Innovation
Melissa Stewart, a student based at UEA, undertook her internship at Hethel Innovation after finding out about the company at the Employer Forum. Hethel Innovation is a business and innovation consultancy that works in emerging sectors including biotech, cleantech and infotech. The company also runs business incubators and enterprise parks across Norfolk, with a focus on high-growth science and technology-based businesses.
Melissa did her placement during the summer of her first year, and found this to work very well. "By doing my internship soon after producing my report and attending my probationary review meeting, I had a clear summary of what I had achieved prior to the internship and what I needed to do after my return", reflects Melissa.
During her internship, Melissa collected data and resources to produce six reports that highlight future opportunities in the biotech sector, as well as mapping the regional supply chains here in East Anglia. The subsectors that Melissa looked into included biomedical diagnostics, biomass, the microbiome and biomanufacturing. Melissa also produced a number of blog posts for the GoBio website (http://gobio.uk/), engaged with business in business support meetings, and assisted in workshops, events and seminars hosted by the Hethel innovation team. "I particularly valued the opportunities to connect with local business professionals. Through these opportunities, I have gained a wider knowledge of how research can be commercialised and applied to a business context. I also feel much more confident interacting in the business environment", says Melissa. Towards the end of her internship Melissa gave a brief summary presentation to Simon Coward, the managing director of Hethel innovation, and Dr Sally Ann Forsyth, CEO of Norwich Research Park.
Aaron Hunter, Melissa's host during her placement said; "Melissa has done some fantastic and much-needed work for us, mapping our regional bioeconomy sectors. The huge amount of data, reports and web content she pulled together in her short time with us will make us much more effective in the near future".
As a result of her internship, Melissa feels more confident interacting with professionals outside of the academic environment and has a wider knowledge of innovation in business. Melissa also feels her time management and communication skills have improved. The internship has helped Melissa realise that there many roles for a researcher in business, not just in academia and she has learnt about the way the sector operators and gained an understanding of commercial issues.
The internship has also brought a range of benefits to Melissa's PhD research as she has found she is better at managing her project and her time and more confident at interacting with different people in different settings.
In terms of Melissa's career, she feels that the internship has enabled her to better market herself to future employers and enhanced her professional networks for the future, meaning that overall she feels that her career prospects are improved.
Overall, Melissa found her PIPS to be a very positive experience. She advises further PIPS students to try to choose something outside of their comfort zone.