Judit gets an insight into a commercial research environment with PIPS at Vertical Future Ltd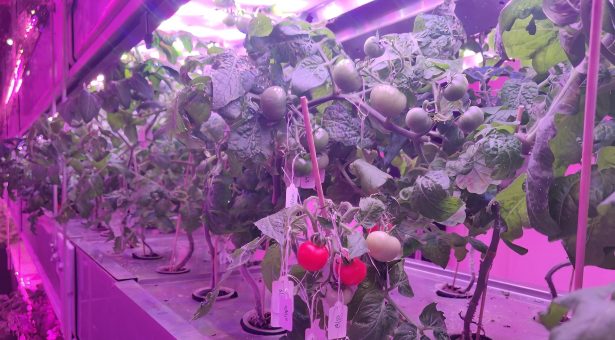 Judit Talas, a student based at the JIC, undertook her PIPS with Vertical Future Ltd as she wanted insight into a commercial research environment with a focus on crop development. Judit used an independent contact she had at the company and sent a speculative application, which was accepted.
Judit undertook her placement in the Autumn of 2022, at the start of her third year. She found this was a good time to have her placement in terms of using the skillset that she had picked up during her first 2 years of research. However, in terms of her PhD project, Judit found the timing was reasonable but it would have been better to have done it slightly earlier.
Judit had flexibility to craft a project together with the R&D team that played to her skill set. Her primary focus was R&D work with new potential clients who wanted to explore feasibility of technology for their crop (tomatoes). Judit set up a pilot vertical farming trial to collect the initial data, recording traits of plants grown in the system such as plant size, yield, the length of vegetative and floral growth, as well as testing out different substrates resulting in the final calculation of energy cost per kg of fruit. Judit analysed the data collected and reported back in team meetings. She was also involved in other trials being undertaken by the R&D team. Judit was very happy with how the project went, reflecting "I successfully grew 4 different fruiting cultivars of tomato in the Vertical Future systems and set over 1500 fruits for the first trial. I also have collected extensive data about pollination and the team will continue to record fruit yield which will inform further trials and grant applications".
Judit found that the company operated fairly strict 9-5 working hours but within that time they were very busy. She felt she had a positive professional experience and from day one was given responsibility and independence and felt valued for her contributions. Judit liked working together with the other scientists towards common solution-focused (client-driven) research goals. Judit reflected that there was more emphasis on experimental design and statistical analysis creating a more 'robust' process of R&D, with progress constantly fed back to the client. Judit felt that the rigorous approach to notebooks/project diaries to record the work undertaken led to greater transparency and ensured reproducibility. This more precise approach to recording is something that Judit hopes to bring back to benefit her research work. Judit also learned many new technical skills regarding establishing vertical farms which could be brought back to her PhD with the use of controlled environment rooms/cabinets.
Judit felt her ability to communicate her expertise to colleagues and clients in the new work environment developed through the placement, and this has given her confidence in conveying her ideas and knowledge to different audiences going forwards in her PhD. "Receiving encouragement and good feedback about data collection and analysis in a commercial setting has massively increased my self-confidence and effectiveness as a scientist in a non-academic context", she reflects.
Jim Stevens, Judit's supervisor at Vertitcal Future said "'Judit was the ideal PIPs student for us: she wanted to extend her skills into vertical farm agronomy by looking at commercially-relevant outputs like yield or flavour. In the 3 months she was at Vertical Future, she totally mucked into all our activities – from cleaning canals to presenting to external clients. She ran an excellent trial on tomatoes demonstrating how they could be grown in our system. The work has now become a key element in an Innovate UK bid to develop novel tomato crops in vertical farms. All in all, she was a great resource for us while I hope we showed her what commercial R&D looks like".
Overall, Judit had a very positive experience. "I definitely gained an insight into what it would be like to work in a plant scientist industry job. Not only was it useful to strengthen my personal contacts but I got a good look at the specific day to day goals and projects that a commercial plant scientist would be working on" says Judit. She advises future PIPS students to work hard but prioritise a good work-life balance and make the most of getting to know contacts in industry.