Jenna takes full advantage of PIPS with BrisSynBio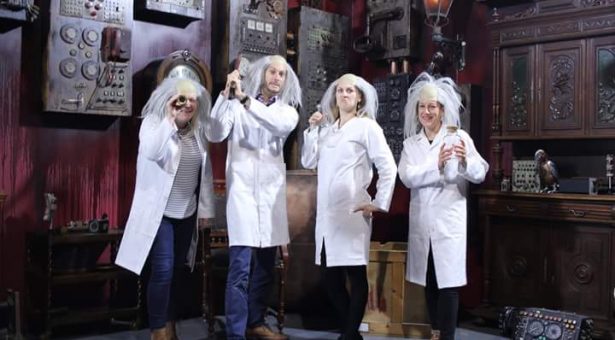 Jenna Helleur, a student at the Quadram Institute, undertook her PIPS with BrisSynBio at the University of Bristol after reading about the opportunity in the PIPS Newsletter. BrisSynBio is a multi-disciplinary research centre that focuses on the biomolecular design and engineering of biological systems and which runs an innovation programme to support the translation of world-class synthetic biology research. Jenna wanted to gain an insight into innovation and entrepreneurship within biotech areas and how to facilitate the initial steps in this process. Jenna also wanted to work with new start-ups/spin-outs and understand the steps taken in their journey and more broadly how they apply their research into a commercial context.
Jenna undertook her PIPS in her 2nd Year and found this timing to work very well as she planned it during a lull in her research activity. Jenna had a huge array of responsibilities during her placement which gave her an invaluable experience. Jenna's main duty was to organise (and participate in) the 4-Day MBA course. This was an entrepreneurial programme for synthetic biology researchers to develop and build a synthetic biology business idea over the 4 days and finally pitch to a panel of investors for up to £10,000 worth of prizes. Jenna contacted collaborators, partners, government funded bodies and Universities to advertise the course on their websites and to prospective students/researchers. As a result, there was interest from all over the UK (and other countries) to sign up. In addition, Jenna contacted industrial organisations for sponsorship of the course and received three successful sponsors. In addition, Jenna contacted venture capitalists and industrial specialists to be judges and attend the finale of the 4-Day MBA where all 9 teams would present their business ideas for prizes. Jenna advertised this event and was successful in getting 78 academics, industry specialists and new start-ups to attend.  Jenna participated in the course with a team called 'Exom', and won the best pre-incorporation prize. The prize was to use £2000 worth of BrisSynBio science facilities to develop their business model and idea.
Besides the event planning for the course, Jenna was also involved with meeting the two BrisSynBio spin-outs, Zentraxa and CytoSeek, and the plans of a third potential spin-out, undertaking market and financial research of their 'products'. As well as this Jenna organised a series of talks to be hosted at BrisSynBio for after she finished her internship. This has resulted in monthly seminar talks till the end of August. These talks are to gauge interest and stimulate interest in innovation to researchers and how they can apply research more commercially. In addition, Jenna wrote a series of press releases for the University of Bristol (UOB) website on the 4-Day MBA and other stories taking place within the UOB spin-outs. These have been published online as well as on the company websites.
"My internship has provided me with invaluable experience that has hopefully provided me with skills and a network to assist in my future career path", reflects Jenna. A major skill was event planning which has honed Jenna's organisation, time management and planning skills to ensure that everything ran efficiently.
Jenna also feels her communication skills have flourished during her internship. "I have had contact with a huge network of people from all over the world. I have had direct contact with people in new company start-ups, people of industry, academics, venture capitalists and other funding bodies etc. I therefore feel more confident approaching people outside of 'my niche contacts', as well as providing me with confidence during networking and starting a new conversation". Jenna also feels her written communication skills have developed as she now feels able to write in a more 'fluid' way for articles aimed at a non-scientific audience. Jenna's entrepreneurial experience and knowledge has thrived, having worked directly with UOB Innovations team who not only work with new start-ups but they help people in their journey; whether this is from the perspective of assisting with grant applications, seeking outside funding sources, market research, commercial impact value, and generally what the individuals/company should be considering next to push them to the 'next step'.
Jenna still wants to pursue a career in science but has no firm plans as to what path this is. "I have thoroughly enjoyed working in the innovations sector and with new start-ups, I would love to assist someone in their start-up journey or one of my own", reflects Jenna.
Overall Jenna found her PIPS to be a very positive experience. She advises future PIPS students to make the most of their PIPs and to see it as an opportunity to gain and develop skills in an area they lack in. "I would advise going into something new in an area that interests them that maybe they have not had any exposure to before", says Jenna. "PIPs will give you an opportunity to really understand whether these different 'areas' are at all of interest and whether they could be a potential career path after their studies. Don't be afraid to try something new, the idea is to develop those 'scary' thoughts/skills and turn them into something positive". She concludes "work hard during your placement, the more you put in, the more you get out and the more doors it may open to you in the future. Try to build your network in your placement, because you never know when those people may be useful to you or when you could be very useful to them later on in life".
www.bristol.ac.uk/brissynbio/innovation