Iceland Ocean Cluster provides Gurpinder with a variety of skill development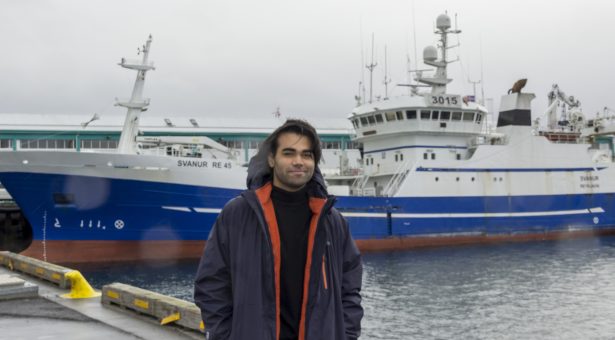 Gurpinder Singh Sidhu, a student based at the JIC, wanted to gain experience in a business/ research support environment. After seeing an opportunity in the PIPS newsletter, Gurpinder applied for a PIPS with Iceland Ocean Cluster (IOC https://www.sjavarklasinn.is/en/) in Reykjavík, a company providing networking, consultation and innovation space, and offering support for ocean-related industries in Iceland and Worldwide.
Gurpinder undertook his placement in the Spring of 2023, during his second year. He found this timing worked well.
There was lots of flexibility in terms of the projects Gurpinder could pursue. Initially he was investigating new commercial uses for biproducts of the fishing industry, but he found that his lack of knowledge of the area hampered this project and so changed focus to use his strengths in computational biology to build a new website for IOC and partners. Gurpinder really enjoyed the creative aspect of developing his graphic design skills using Adobe creative cloud to consider visual elements of user experience. He also learnt how to use WordPress as the backend for the website. Gurpinder had to pitch his idea for the website to his colleagues for approval and they were pleased with his product and gave him responsibility for its development.
As a secondary project that Gurpinder was involved in designing the commercial stand for IOC at the Iceland Innovation Week conference, with an aim to showcase Iceland Ocean Cluster and its role in supporting startups that are working to achieve full utilisation of fish with zero waste, as well as to attract more international clients to the company and future collaborations. Gurpinder didn't run the stand but spent time attending some of the talks on the Blue Economy and networking with other delegates during the conference.
Gurpinder felt that as well as his creative and technical skill development the internship gave him a good insight into the business development environment and helped him improve his networking skills. He also feels that his self-confidence has increased; "It gave me confidence that I would be able to adjust to and work in a non-academic environment" says Gurpinder. "I gained much more confidence in my public communication skills, graphic design and web development skills. I particularly enjoyed working on the Iceland Eco-Business Park project because I could apply my creativity in developing the website and associated materials" he continues.
Overall, Gurpinder had a positive experience and met his aims for his PIPS. It has helped him keep an open mind about his potential career options and he hasn't discounted research-related options.
Alexandra Leeper, Head of Research and Innovation at ICO, reflected on the placement and said "IOC is always happy to host and mentor hard working students, they bring fresh ideas, new skill sets and a valuable perspective to our work."