Hannah gains new skills in Brussels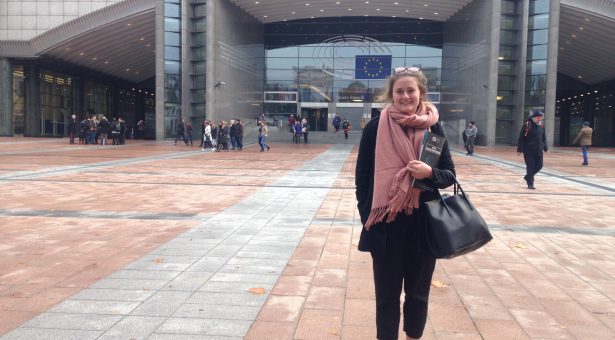 Hannah Brown, a student at TSL, was keen to improve her written science communication having undertaken some outreach activity previously. Her TSL supervisor had contacts at CropLife International so she approached them speculatively at the start of her second year with a view to undertaking an internship with them in Brussels. Following two phone interviews focusing on her relevant knowledge and experience they agreed a mutually convenient time for the internship at the start of her third year. "Taking the placement later into my PhD meant I had time to think about what area I wanted to complete the internship in and consider the career paths I would like to gain experience of working in", reflects Hannah.
Hannah was working on a new CropLife campaign looking at agricultural innovation which included developing a social media presence. Hannah had some previous experience of using twitter to convey her PhD research but found it a steep learning curve to identify the impact of different social media outputs including blogs and updating LinkedIn content. During the placement Hannah achieved the company's highest monthly impressions and follower increase on LinkedIn, doubled their monthly Facebook engagement numbers and achieved the third highest number of monthly post 'favourites' (likes) in their analytics records. Hannah also conducted in-depth research into innovations from the large agrochemical companies and their venture capitalist branches, start-ups and academic spinouts, summarising this in a 'Request for Proposals' which was sent to various creative agencies in London and Brussels. These agencies then pitched their ideas to the communications team. Towards the end of the internship Hannah also took on more journalistic roles such as writing articles for CropLife's website and newsletter and conducting interviews with industry figures.
Hannah was able to attend numerous conferences, meetings and parliamentary debates at the EU related to agricultural policy, which often involved networking events. She found face to face networking initially challenging but started by speaking to the vast number of interns working in Brussels across scientific industry and policy, who then introduced her to their colleagues. Events included conferences at the EU Commission on 'Digitizing agriculture and food value chains' conference and debates on the 'Impact of regulation on agricultural Innovation'. CropLife also encouraged Hannah to attend events of a more personal interest such as the "Science meets Parliament' event at the EU which pairs together European scientists and MEPs.
Hannah developed lots of skills as a result of her internship, including time management and communication skills. Attending debates and industry events helped Hannah to feel more comfortable talking about her work with new contacts and be confident discussing science with more general and industry focussed audiences. Finding innovative ways to capture audiences on social media and convey scientific stories in a manner which was digestible for non-specialist audiences made Hannah look at science in a more creative way than she had before. Through attending EU-related events and working in Brussels in general Hannah gained a great insight into the political functioning of the EU and how scientific policy and funding schemes are run and feed through the European political system.
Hannah feels her PIPS placement has expanded her horizons to scientific careers beyond academia. "The internship provided me my first real experience of working in journalism which I really enjoyed", says Hannah. She also enjoyed learning about the variety of R&D occurring in the plant science sector and this has encouraged her to look further into a career in industry as she found this field of more applied scientific research particularly inspiring.
Overall, Hannah has a very positive PIPS experience and advises future students to take time to think about what area you want to undertake an internship in. "PIPS offers a fantastic and unique opportunity to gain experience working in a professional area you haven't before". Hannah found the opportunity to gain experience of working outside of academic really insightful encourages others to fully take advantage of this. "PIPS placements offer such a unique opportunity in your PhD training program that you really need to make the best use of it", concludes Hannah.