Emily gains maximum benefits from PIPS with Synthace Ltd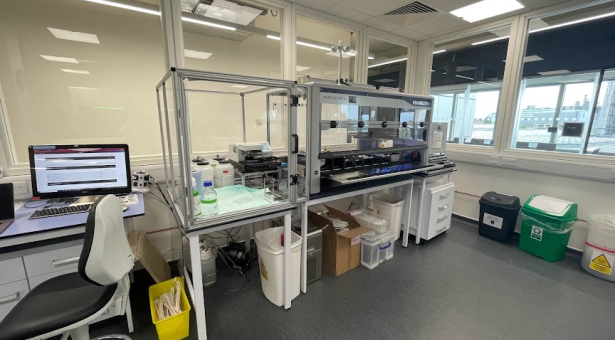 Emily Tipper, a student based at the JIC, went to Synthace Ltd for her PIPS. Synthace is an experiment platform that lets scientists design, automate, and analyse their experiments without using code. "I wanted to gain experience of what it is like to work in a start-up environment, and also to experience working in tech. I wanted to work in a lab in an industry setting rather than an academic one, to evaluate their similarities and differences, but also experience all aspects of the company, from pre-sales to design and marketing", reflects Emily. Emily used a contact with a former PhD student in her lab who has been at Synthace for a number of years as a research scientist to set up the placement.
Emily arranged her placement for her third year, which she found to be excellent timing as it allowed her to spend the second year of her PhD brainstorming and researching the different options that were open to her. "It gave me time to think about what skills I wanted to gain for my CV, and what industry I would like to work in afterwards, so I could tailor the placement to best fit my needs and interests", says Emily. She returned to her research feeling refreshed and motivated for the final year of PhD work.
Emily had lots of flexibility to determine the projects she would work on in the 3 months. She initially found this a bit daunting, but she arranged meetings with different teams within the company to explore their work and identified areas where she could provide support. During the first 6 weeks Emily was mainly with the lab team helping to design protocols using the software platform and executing the protocols using robots. Emily developed a useful proof-of-concept for the company that they can expand on to showcase how the Synthace platform can be used by scientists. This required lots of technical development as Emily had not used automated systems previously in her research.
Emily was also able to observe sales demos and client training to get a better understanding of the platform. This enabled her to build confidence so that she was able to offer support to other departments, such as when the customer success team needed help with live customer support Emily took shifts on live messaging. This also helped Emily develop her communication and interpersonal skills, liaising between customers and the technical engineering team to facilitate the response and support required.
Emily contributed significantly to the product development team by giving critical feedback on the platform's functionality and identifying areas for development. As part of this she gave a formal presentation to half the product development team including the manager. The effort and level of feedback within her presentation was appreciated by the team and she felt really valued for her contribution. "I presented my thoughts on some new product features to the product development team, and although it was daunting to be presenting to senior managers, it was incredibly rewarding and very well received by the company", says Emily. This experience also gave Emily a new perspective on software design and the user interface.
Emily also produced content for the website and blog (https://www.synthace.com/), assisted with recruitment, and worked closely with the design team to ensure the platform was intuitive and easy to use. In addition to this, Emily had the chance to network with a large number of pharma companies who attended a client conference and she used this opportunity to understand the different roles and how people had transitioned into these.
Emily really enjoyed the working environment and positive culture at Synthace and found them very friendly, welcoming and supportive. She found it motivating to be working towards the same goal as others and to a joint vision. Emily felt it was a very cohesive and dynamic atmosphere. "I learnt a lot about what it is like to work in a start-up environment; you need to be flexible, open minded, and ready to jump in and help with any task that needs completing", says Emily.
Emily recommends other PIPS interns make the most of opportunities to explore a wide range of functions and roles within an organisation during the internship and to be open minded as to what they are looking for. "The placement opened my eyes into a range of different careers I didn't know existed. It has confirmed that I'd like to work in the biotech industry after my PhD, and made me realise I'd enjoy a customer facing role. It also showed me that I'm not limited to the plant biotech industry just because my PhD is in plant sciences; it's the skills that you gain from doing a PhD that make you a valuable employee, not just the subject matter of your thesis", concludes Emily.