Elizabeth develops array of skills at The British Quinoa Company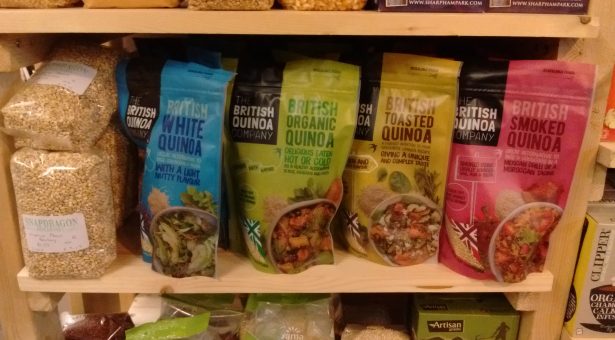 Elizabeth develops array of skills at The British Quinoa Company
Elizabeth Chapman, a PhD student at the John Innes Centre, undertook her internship at The British Quinoa Company from January to March 2017, during the 2nd Year of her PhD studies. The British Quinoa Company is a small company, based in Shropshire, founded by Stephen Jones in 2012, growing and selling Quinoa in the UK.
During the internship Elizabeth's duties included conducting market research and feasibility reports, regarding new product development (NPD) projects within the company, and identifying companies for whom the products may be of interest to. Subsequently these details would be passed on to the Business Development Manager and enquiries and product samples sent out. Elizabeth was involved in editorial tasks including proof-reading marketing material, promotional articles, supplier contracts and written packaging content, as well as reviewing the latest packaging designs and providing feedback, in addition to researching alternative brands' packaging layouts for styling ideas. Furthermore Elizabeth was involved in product tasting, and recording of resultant feedback, to be communicated to the manufacturer, alongside researching current quinoa containing products, collating and amending recipes, to help inform future NPD projects. Additionally Elizabeth was involved in researching alternative crops which could potentially be grown in the UK, in an effort to expand the existing cropping portfolio of The British Quinoa Company; this included researching novel crops currently grown, making enquiries with the associated farmers, scientists, breeding companies and breeders, to ask for both advice and ultimately source seed for trial purposes. There was also a sales and marketing side to the placement and Elizabeth was tasked with approaching new retailers, and, or manufacturers who may be interested in taking receipt of quinoa products, and tracking resultant orders.
Elizabeth found working at The British Quinoa Company gave her a valuable insight as to how one brings to market a 'novel' crop, whereupon  she learnt about the story behind the business and the challenges of bringing quinoa to market ranging from;- the complexities of its cultivation, variety sourcing, plant breeders' rights and contractual growing arrangements; through to food grade processing, bulk ingredient supply, selling to retailers and supplying food manufacturers; something she found incredibly interesting.
Elizabeth developed her self-confidence during the internship and improved her knowledge of the food industry, product commercialisation and how small businesses work, particularly regarding rural enterprises and their financial setups. Assisting with packaging designs for a new range of products developed Elizabeth's creative and problem solving skills, as did attempting to identify and source seed of novel crops and suppliers of seed; "Possibly, one of the most rewarding experiences I had was receiving a shipment of unusual seed from Denmark on the last day of my internship, for which I had required considerable effort to obtain", Elizabeth reflects. Creativity and problem solving also came to the forefront when trialling recipes, tasting the initial efforts and subsequently considering the changes required in order to improve them, whilst also gaining knowledge of how the constitute ingredients behaved.
Elizabeth improved her organisational and research management skills through establishing excel databases to compile information from multiple sources regarding contacting details of potential customer and manufacturers, response to enquiries, seed suppliers, seed information and status. Elizabeth also developed skills relating to funding applications through assisting with a grant application to develop a new product processing facility on the farm through the Rural Payments Agency. Elizabeth's communication and team working abilities were likewise improved during the course of the internship; "Team working skills were essential regarding the successful delegation of tasks to one another and for efficient dispatch of samples to distributors", says Elizabeth.
Elizabeth found the internship has influenced her career aspirations. "Stephen has a similar background to me, having carried out a PhD in Crop Pathology at the University of Nottingham, so it was interesting from my perspective to see how he came to arrive at establishing his own company growing a novel food crop commercially. I have often liked the idea of running my own company, and working for The British Quinoa Company highlighted the potential benefits and pitfalls of doing so". Elizabeth feels that she would prefer to have more of an applied job, which for example may be industrial, or plant breeding related. Elizabeth potentially has enhanced her professional networks for her future career through meeting others interested in underutilised crops, and or varieties and have wider conversations within the breeding community.
In terms of the benefits for her research degree Elizabeth feels she is now more open to new ideas and activities as a result of the internship, and has grown in confidence when interacting with different people, in new work situations.