Do your genes affect your sports performance?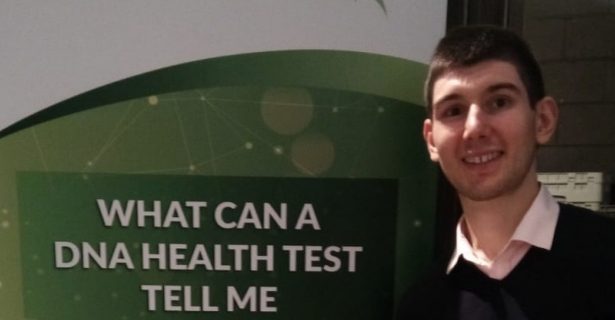 Federico Benuzzi, a Quadram Institute Bioscience student, was interested in both exploring research opportunities outside of academia and understanding how academic research is taken forward into practical applications. Federico choose to do his PIPs placement in his second year after speaking with myDNAhealth at the PIPS Employer Forum.
During his PIPs internship, Federico explored the possible link between genetics and sports performance, identifying a suite of genes that might correlate with sporting ability.  This involved investigating the latest research on genetics and sports related topics, such as performance, injury risk and nutritional sensitivities and developing online questionnaires. In total, Federico researched 20 genes that might have an impact on sports conditioning and presented his work to the Head of strength and Conditioning at the Sportspark at UEA.  He is also hoping to present his work to physiotherapists and members of the Norwich City Football Club.
As part of his internship Federico was also involved with writing science articles for the general public and this was a type of science writing that was new to him, but was something that he found he had an aptitude for and really enjoyed.  His ability to communicate to non-specialists both in written and oral formats was enhanced as he helped write the company blog and was involved in public marketing events for the company.
Federico is very positive about his internship and it has confirmed his intention to continue his career as a researcher within academia and potentially within an industrial company, although he has now added a career in scientific writing to his future career options.  His self-confidence grew in this new and challenging environment and his strong organisational skills helped him to successfully manage the project effectively and deliver good results within the three months of his internship. He now has a better understanding of this sector and how it operates within its broader environment.
For Federico, the three months of his internship was, "a life changer", which altered his perspective of science and how it works as well as helping him to better understand how the research that  academia conducts can then be translated to develop a product. "For the first time I realized how beneficial the research that I carried out, and the skills that I have gained during the first year of my PhD, are for the general public."
His advice to future PhD students embarking on their PIPS placement is to, "embrace it and do as much as you can and don't be scared to tackle new problems.  The more you put into it, the more you will get out of it."