Dippy the Dinosaur is coming to Norwich (helped by a PIPS student)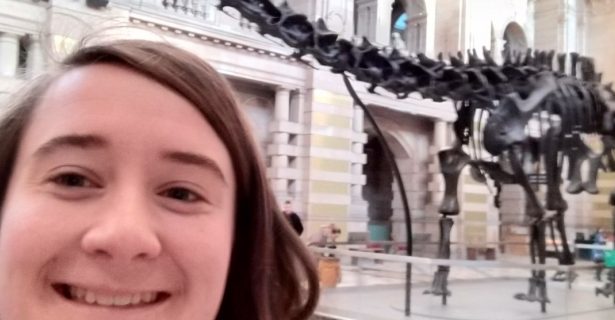 Joanna Jennings, a JIC PhD student, completed her PIPs internship with the Teacher Scientist Network (TSN) based at the Norwich Research Park. TSN is an independent and autonomous science education charity that works with local schools to deliver up-to-date, relevant science, encouraging scientists to interact with teachers and children and aims to counteract the 'eccentric boffin' stereotype. Jo met with the TSN at the Employer Forum, although didn't have an interview, and was keen to work with them as she wanted to learn how to communicate science in a creative way.
Dippy, the Natural History Museum's iconic Diplodocus has been on tour and TSN, together with Norwich Cathedral is bringing him to Norwich in July 2020 and Jo's main role was to focus on the development of educational content around Dippy's upcoming visit (she managed to squeeze in some general help to TSN's day-to-day activities as well).  To do this, Jo participated in organisational panel meetings to pitch and refine ideas and visited Dippy on tour in Glasgow to see how other hosts are implementing their programme. In helping to create the educational resources for Dippy's visit, Jo had to gain knowledge in palaeontology, climate change and food security and then think creatively about how to link and condense these ideas without losing the main message of 'Changes for our future'.  One of Jo's main achievements was helping TSN prepare a successful grant bid, to help fund some of the educational work around Dippy, her first grant proposal. She also developed scientific content on different themes that can be worked up by an artist into educational story boards, to support the exhibit.
Overall Jo is very positive about her internship with TSN.  She has greater confidence in meeting new people and driving forward a project through networking, organising meetings and presenting her ideas to a diverse range of people.  Jo also learnt how to communicate science information to teachers, other organisations as well as the public.  Jo enjoyed thinking up ways to explain complex science ideas to the public in a fun and engaging way. Working independently and being given the freedom to create and present her own ideas has really helped boost her confidence.  Jo now feels that she has a greater understanding of what is involved in organising a large public engagement event and better understands the broader environment in which TSN operates.
Phil, from TSN was also extremely positive about the project saying that the placement helped a high profile project gain momentum and progress. This project has gone particularly well. There are multiple benefits to a small charity in hosting an intern", reflects Phil. "Its been great having Jo to work on the Dippy project and I am delighted she has been able to take away tangible products from her internship (and a ticket to the launch party!). Jo has been brilliant, a pleasure to have around our space and a really rewarding 3 months for all of us." he adds.
Jo completed her PIPs placement during her second year, this was a useful break and enabled a more motivated return to research with greater confidence and organisational skills.  Her advice to future PIPs students is to choose a project that you are enthusiastic about and communicate clearly your ideas of the direction you would like to take the project.