Developing Experts provide positive placement experience for Elizabeth Allum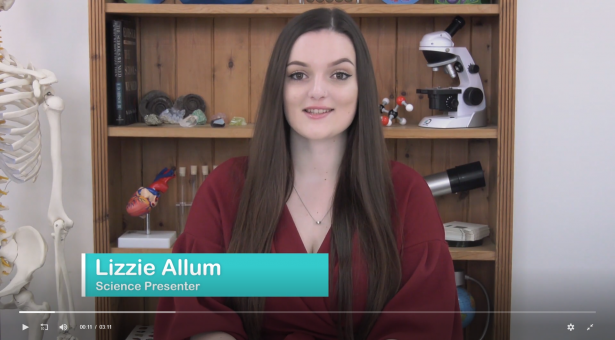 Elizabeth Allum, a student based at the UEA, hoped to improve her science communication skills by gaining a better understanding of video editing and resource development. Lizzie met with a representative from Developing Experts at the PIPS Employer Forum and they arranged for her to undertake a three month placement with them during her second year. Developing Experts provide online science lessons and activities for teachers and home educators.
The main focus of Elizabeth's internship was to develop and produce a series of lesson plans to meet curriculum aimed at Chinese and UK markets covering a variety of science topics. Lizzie produced royalty-free images that could be used in handouts, designed handouts to accompany lesson plans, produced a script and filmed videos to accompany the lesson and produced an informative and engaging presentation for use by the teacher/pupils. Lizzie was responsible for designing and producing entire lessons herself, from researching the topic to producing a lesson plan and handout and even recording videos and experiments for the purpose of the lesson.
"I very much enjoyed my placement, and felt that I learned a lot about how to pitch science to certain age groups. I gained a better understanding of what the public's knowledge of science is likely to be which has helped me to better explain my own research to them", reflects Lizzie.
Lizzie gained a wealth of skills during her placement. Having never been on film before, Lizzie has become more confident about speaking and appearing on camera. "I found this very nerve-wracking at first, but I improved as the placement progressed", says Lizzie. Her knowledge of the science curriculum has improved greatly, which she believes will be useful when it comes to science communication with parents and students. Her creativity and problem-solving has also improved as she was required to come up with experiments that were not only informative and useful to the teaching experience but that were also engaging and fun. Lizzie learnt lot about the impact of visual content, specifically how to develop and produce video material and vibrant photos. This is something Lizzie wants to incorporate in her academic presentations going forward e.g. video and infographics. Lizzie's communication and presenting skills, especially written and via recordings, have improved through designing lesson plans pitched to the appropriate key stage. Her team working has also improved.
Lizzie wanted to learn as much as she could about the organisation so she shadowed other areas of the company e.g. marketing, business development for half-day each. Lizzie also got the opportunity to represent the company at the NCC Virtual Schools Event at JIC where she learnt a lot of new skills from the CEO about networking and 'pitching' a product / service which she plans to apply to her PhD.
Lizzie was surprised to find working in an office a little challenging at times. This has helped her realise that she can find working in the same environment constantly difficult, and it's taught her that she needs to be somewhere where her working day is flexible and she is able to work closely with others.
Overall, Lizzie found her PIPS placement to be a very positive experience. She advises future students to try to arrange a visit to the place you'd like to work to gain an understanding of what the company does and the environment you will be working in.