Danny enhances his employability during his PIPS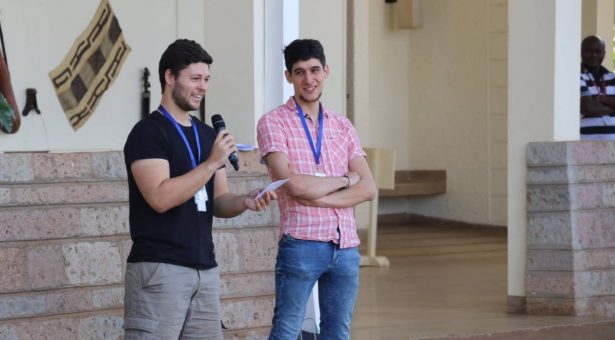 Danny Ward, a student at the John Innes Centre, wanted to gain new skills relating to science communication and an insight into what a career in this field may look like. Danny also wanted to experience a different culture, as together, he felt that these would help enhance his potential employability following his PhD. After attending the PIPS Employer Forum Danny arranged his internship with BecA-ILRI (Nairobi) and Pwani University (Kilifi).
Danny undertook his PIPS during the second year of his PhD, which he found to be excellent timing. "The internship was late enough that I had learnt many of the key skills needed for my PhD and gotten most of the necessary preliminary data but not too late where it would be eating in to precious major data collection time and thesis writing", says Danny.
The majority of Danny's placement was at BecA-ILRI, where Danny was responsible for creating an online bioinformatics video training series. Danny created a production pipeline, pilot episodes (you can view the pilot here.) and an extensive technical user guide which will now be used by staff at the research institute to continue production of this series. Danny found he particularly enjoyed the freedom and challenge to be creative with video production. "It was rewarding to start with nothing and end up with a fully-fledged final product and production process as part of the video series at BecA", reflects Danny.
Danny also spent some time at Pwani University, where he was responsible for helping with the organisation and running of the AfriPlantSci19 summer school, a two week plant science course for early-career African researchers. Danny assisted with the running of sessions, led his own session, demonstrated in lab practicals and was in charge of photography and videography documenting the course. Danny also assisted with social media promotion of the summer school.
Danny gained many skills as a result of his placement. He gained self-confidence and personal effectiveness by leading this creative project on his own. "I created and developed this video series and then stood behind it. This process has given me skills relating to project management that will be useful for the PhD and beyond". The video production process also meant Danny learnt a variety of soft and technical skills related to science communication and video production. Danny's communication skills also greatly improved. During Danny's work at both BecA and Pwani he was required to take advanced biological concepts and break them down into digestible easy-to-learn material. "To be able to communicate information and data clearly and engagingly is highly valuable in an organisation", reflects Danny. He also learnt to think better on his feet and to be resourceful and adaptable to problems.
The placement has opened Danny's eyes to what is possible in terms of career options, giving him a flavour for science communication work, media production, international capacity building and academic teaching. Danny feels that the placement has showed him that the skills which he has learnt throughout his PhD are well served in these areas.
Danny found his PIPS to be a very positive experience, saying "I thought the PIPS scheme was fantastic and I am really glad I was given the opportunity to do something like this". Danny encourages others to engage with the scheme as fully as possible, considering it just as much a part of your PhD as the lab portion as he has found that the skills and experience he gained are very valuable. Danny feels that overall the placement has helped him grow as a scientist and as a person and will ultimately help to make him more employable post-PhD.
The entirety of Danny's PIPS has been documented in a blog he wrote each week available at kenyapips2019.home.blog.