Claire develops her business skills with internship at Santander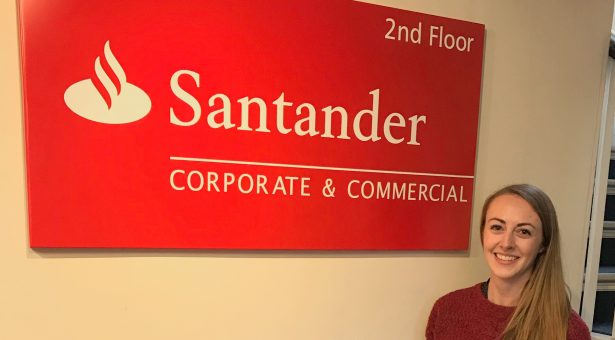 Claire develops her business skills with internship at Santander
Claire Hews, a student at the University of East Anglia, wanted to experience a role outside of academic research, with the aim of learning how the skills that she develops during her PhD could be applied in a completely different sector of employment. Claire's aims were to gain commercial and business awareness with particular focus on developing skills in contacting clients, networking and knowledge of finance and small business operations, and so following an interview at the Employer Forum Claire set up a placement with Santander Business.
Claire undertook her internship during her second year and found this to be an excellent time. "I chose to complete my internship a couple of months after the probationary review meeting. This was excellent as it gave me time to review recommendations following my meeting and put a plan in place for my work once I returned from the placement. I felt that if I left the internship until late 2nd/3rd year this would cause more of a disruption in my research", reflects Claire.
During the placement Claire's main role was to undertake business development research for Santander business centres across East Anglia. This involved identifying, researching and contacting prospective customers for the bank and generating sector spreadsheets detailing these prospective businesses. Claire also carried out market research with both current and prospective customers in order to identify levels of satisfaction with service and improvements that could be made. Claire produced market research and recommendations for inclusion in the Divisional Manager's weekly newsletter, which was distributed to all employees of the business bank working in the South East, London and East Anglia. Finally, Claire focussed on the community work of the bank, investigating how relationships with universities in the region, particularly UEA, University of Essex and University of Suffolk could be improved. As a result of this Claire initiated and led the organisation of two events, focussing on internship opportunities and growth for small businesses, to be held in collaboration with two universities in the region in Spring 2018.
Claire attended a Business Relationship training day at the beginning of her internship and this gave her an excellent insight into the role. There were aspects of this training that she feels she can also apply to her PhD, for example time organisation and project management. Claire very much enjoyed developing the ability to arrange and conduct meetings with current and prospective customers of the bank. "Moving from attending meetings with Relationship Directors to organising and leading meetings alone was challenging but extremely rewarding", says Claire. As a result of these meetings Claire's professional network has grown immensely and she has made many new contacts across different small business sectors. Claire had the opportunity to visit different locations in the region both for team and customer meetings as well has visiting the London Head Office for a 1:1 meeting with the Managing Director of the UK Business Bank.
One unexpected opportunity from the internship was the chance to present her PhD research topic to small business owners at a Norwich business networking breakfast. Claire attended the breakfast with the aim of meeting prospective customers and was invited to return and give a talk on her research. This was greatly received, brought about lots of interesting questions from the audience and gave Claire an excellent opportunity to develop her ability to communicate research to non-scientists.
Attending many business meetings, hosting and partaking in conference calls and attending and contributing to team meetings provided Claire with excellent opportunities to develop her self-confidence and she now feels more assertive as a result of this. Claire has also expanded her knowledge; "my internship was a huge learning curve, at the beginning I had very little knowledge on the business and finance sector. However over the three months my knowledge increased immensely. I feel I have learnt how to think in a more entrepreneurial manner and be more commercially and financially aware".
Claire feels that the internship has opened her eyes to alternative careers outside of scientific research and given her confidence that skills and experiences gained during a PhD can be transferred to many different career paths. Overall though, for the time being despite thoroughly enjoying her internship Claire feels that spending time away in a new employment sector has confirmed her love for research and being in the lab!
Overall, Claire found her PIPS placement experience to be very positive. She advises future students not to be afraid to find a placement completely out of your comfort zone as it's in these situations that you gain lots of new experiences and learn the most! The most important piece of advice would be to take every opportunity given during your internship and make the most of it. "Don't be worried about leaving your research, 3 months is a very small fraction of your 4 year PhD and the short break can actually be very rewarding when you return to your research with fresh eyes", says Claire.