Chris gets in front of the camera at Developing Experts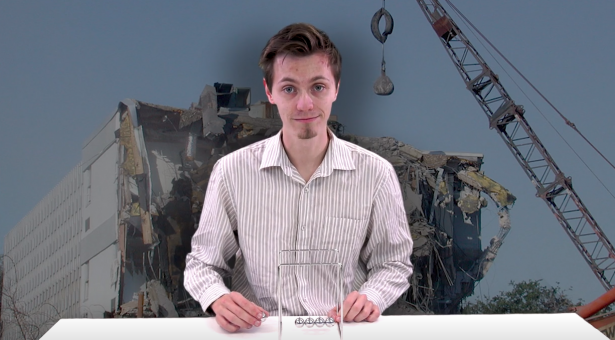 Chris Marriott, a student at the University of East Anglia, was looking for an opportunity to develop his teaching experience with different audiences, whilst also broadening his network. After seeing an opportunity with Developing Experts, a company providing interactive online science lessons aimed at all ages from 5 to over 50, in the PIPS newsletter, he felt this fitted the bill. Chris undertook his placement during his second year and found this to be good timing as he found it easy to resume his research but also had a good amount of work already done.
Chris filmed lessons for the web-based platform on a variety of scientific topics aimed at all ages. Chris found recording videos to camera surprisingly hard, but he improved throughout the internship and he now feels more confident in his ability to teach. Chris recorded videos related to chemistry and physics topics and set up an afternoon of filming at the UEA with his PhD supervisor and lab colleagues where Developing Experts recorded a total of 9 videos to use on their online platform. As well as providing lessons to camera, Chris also wrote presentations for science lessons (mainly for Key Stage 2 and 3), ensured that presentation slides were scientifically correct and ran some practical activities for the Developing Experts stand at the Norwich Science Festival.
Chris gained lots of confidence in his ability to talk to different audiences and develop scientific educational material across a wide range of subjects. In developing activities, he had to recall knowledge he hadn't used in years and create activities children would enjoy. He was able to think creatively to devise lesson plans and equipment and learned the technical aspects of video development. Chris felt that he improved his time-management skills to ensure he achieved the project goals in a short time period. Chris also felt he gained a good insight into the challenges of working in a start-up including the precarious nature of funding and securing investors/developing a market.
Chris' host at Developing Experts, Sam Rowe, was very happy with how the placement went. "Chris started his internship at a busy time for the company as we were setting up for our activities at the Norwich Science Festival and the launch of new science lessons on our online platform. He was really flexible in his approach and was willing to contribute to a variety of activities during his internship", reflects Sam. The company also valued Chris's knowledge of chemistry/pharmacy topics and experience of communicating science to school children. "Chris's written work was particularly efficient so it was easy to provide him with detailed feedback soon after he set himself to work on a new task", added Sam.
Chris's PIPS helped him gain confidence, improved his time management skills, gave him experience of working in a team and reaffirmed his aspiration to move into teaching. Chris's advice to future PIPS students is to "go into the PIPS with an open mind-you might be surprised by what jobs you'll be good at, and which will really interest you"!