Cat is optimistic about her future career after a highly successful CASE placement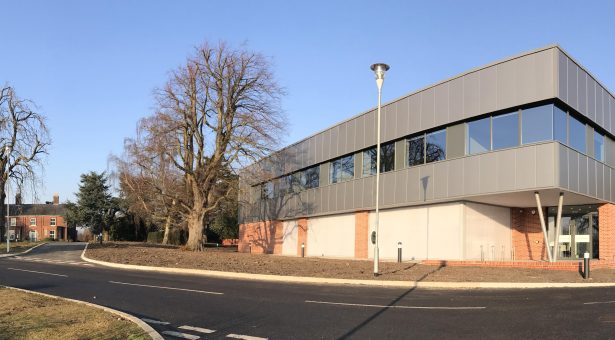 Cat is optimistic about her future career after a highly successful CASE placement
Catherine Gardener is an CASE student at the NRPDTP in her 3rd year, working on novel temperature sensing mechanisms in plants. Cat is based at the John Innes Centre and her industrial partner is Plant Bioscience Limited (PBL), a local company specializing in IP and technology transfer.
"From my placement I wanted to get to grips with intellectual property and its role in scientific technology development, as well as get experience out of the lab, with the business-based side of science", says Cat. "….I also wanted to build my commercial knowledge through immersing myself in a newly starting business and assisting with processes needed to start a profit-making business", she continues.
Cat's time on placement, from March to May 2017, was split equally between PBL and a newly formed company on the NRP, Leaf Expression Systems, of which PBL is a founding shareholder and has been closely involved with establishing its operations using intellectual property and technology from PBL.
With PBL, Cat's main tasks included conducting research into potentially relevant companies who might represent development partners for certain technologies in PBL's portfolio and contacting the most promising companies to try to establish interest and arrange a meeting or other engagement and follow-up. Cat also visited potential partners with PBL technology managers to discuss the logistics of partnership. Cat researched and completed several market research reports assessing the commercial opportunities for technologies in which PBL was considering investing. She also attended a conference day in London about the impact of Brexit on Intellectual Property and reported back to PBL. Cat carried out a review of the PBL website and provided a report suggesting improvements and reworking of the site, and in addition, she reviewed and advised on opportunities for increased use of social media by the company.
At Leaf Expression Systems, Cat's main objective was to produce a working model of costing/ accounting on site, in order to cost the processes involved in producing proteins using transient expression in Nicotiana benthamiana leaves. Cat aimed to help out with several minor projects related to the development of the most effective technique for bacteria and plant cultivation on site so that scale up would be cheap and effective. Cat collected data from each of the company's employees relating to each stage of the production process of recombinant proteins in Nicotiana benthamiana. She also collected overall site data and costing data in order to produce a working cost model incorporating this and the above data. A further task was to assist members of the team with several routine tasks and performing media optimization and plant cultivation experiments to feed the data into the costing and provide suggestions on how to move forward with the methods. Cat also produced branded signage which is now used throughout the site and assisted with poster design for a conference.
As part of her placement with PBL Cat attended a 3 day internship course at D. Young & Co, a large firm of patent attorneys in Southampton. This course involved several learning exercises on the patent process as well as interacting with patent attorneys and taking part in live cases such as client meetings and opposing/ defending patents in process. Cat also attended a course run by Innovate UK on commercialization of scientific technology which was useful and got her thinking about potential applications of knowledge which comes out of her PhD project.
Cat feels that she gained and improved a variety of skills from the placement, both on a professional and personal level, including client networking skills, development of organization and personal motivation skills as well as a different style of writing rather than scientific report writing. "I gained much beneficial knowledge about IP and accounting as well as scientific business in general. I also had the opportunity to use and improve my creative/ design skills on several occasions" adds Cat. "My placement has provided me with a fantastic opportunity to develop every aspect of my knowledge and intellectual abilities, through detailed dissection of papers and patents, to design and branding, problem solving, teamwork and both theoretical and practical applications of scientific knowledge", she continues. The placement also helped develop Cat's enthusiasm, self-confidence, time management skills, communication skills and networking skills. Spending some time at a start-up was great for experiencing the realities of finance, funding and resources. Being a company aiming for GLP (good laboratory practice) standards, there was also a good opportunity to improve her professional conduct skills, as health and safety, ethics, principles and sustainability were all heavily enforced.
Cat advises future iCASE students to be sure to leave everything in the lab/office tidy and with a clear plan of things to do upon returning as this will make picking up their research project after 3 months a lot easier.
Cat's placement has changed her opinion of working in industry and made her a lot more optimistic about finding a job she will enjoy when she finishes her PhD. "I now realise it will be possible to find a job I would enjoy outside of academia for which the skills I have learned throughout my PhD will be highly beneficial in their own right, not just as transferable skills", reflects Cat.
www.pbltechnology.com