Ben helps launch the Mould that Changed the World!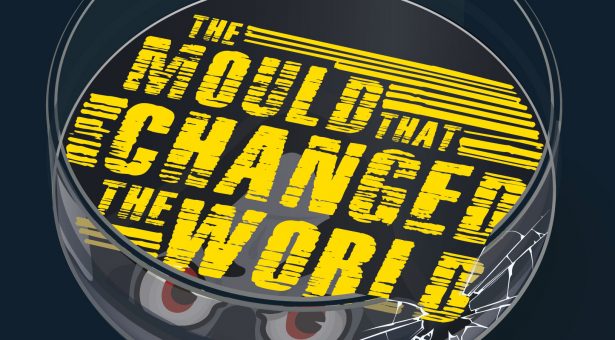 Ben Bone, a PhD student at the University of East Anglia, wanted to gain more experience in public engagement and policy making as well as developing his outreach experience. Ben spoke to Tony Maxwell (John Innes Centre) representing Antibiotic Action and The British Society for Antimicrobial Chemotherapy (BSAC) at the PIPS Employer Forum and arranged to undertake his internship with them. Ben set up his placement to take place during the summer of his first year, which he found to be excellent timing.
Working with Michael Corley (BSAC), Ben's main role was to promote the public engagement musical The Mould that Changed the World (a musical production about antimicrobial resistance aimed at children and young people). In order to do this, one of Ben's roles was to engage and sign up schools. Additional responsibilities included operating the Mould (@ThatMould) twitter account, creating marketing materials (e.g. flyers, banners, promotional emails), organising/stewarding events, marshalling a contacts database of key stakeholders and engaging mainstream media and education press (e.g. TES). Ben also identified opportunities for partnerships (e.g. STEM, teaching bodies), contributed to press releases (one of which was published in The Scotsman), liaised with collaborators (e.g. Charades Theatre, the University of Edinburgh, the Science Museum) and presented at Learned Societies for Preventing Antimicrobial Resistance (LeSPAR) policy meetings on the MP partnership scheme.
Ben helped to organise two successful launches for the project, one in Edinburgh and one in London. Both of these events were fully attended and the audiences provided positive reviews for the project. Additionally, he was a part of the promotion team for the professional showcase at the Edinburgh Fringe, with the production being a complete sell out over the course of its one month run. Ben also took part in discussions with the Scottish Government in rolling out the musical across the country. "I actually led some of the discussions, putting forward ideas on utilising university outreach departments to promote the project, which is being followed up on by the BSAC team", says Ben. He enjoyed this aspect of the internship and felt it gave him a very good insight into policy making and the sorts of initiatives that are being developed to combat antimicrobial resistance.
Ben developed many skills as a result of his internship. Presenting at LeSPAR increased his self-confidence, whilst writing press releases increased his personal effectiveness and, upon publication, his self-confidence as well. Creating promotional materials helped develop Ben's creativity, and managing the considerable workloads throughout the project tested his organisational skills. Ben's presentation skills were developed through the presentation he delivered for the LeSPAR meeting, and his team-working skills and communication skills were developed at the launches. "After the London launch there was a small drinks reception, which helped me develop my networking and communication skills as I tried to persuade and engage the school teachers in attendance", reflects Ben.
Ben's hosts were extremely positive about the placement. "Ben was instrumental in helping us to launch and promote our flagship public engagement project, The Mould that Changed the World", said Michael Corley from BSAC. Michael felt that they benefited from Ben leading, or supporting, in a number of areas, including securing local and national media coverage, staging large-scale events, identifying a range of potential funders and supporters, informing and influencing civil servants, making links with individual schools, STEM coordinators, and University outreach teams, and attracting interest and support via social media.
The internship has had an impact on Ben's career aspirations. "I certainly hadn't thought much to a career in policy making before the internship. Having completed the internship, I would certainly be more interested in pursuing a career either in the civil service or to be a part of the policy-making team within a learned society". Overall, Ben found his placement to be a very positive experience.