Success for NRPDTP Students in BioTech Yes Teams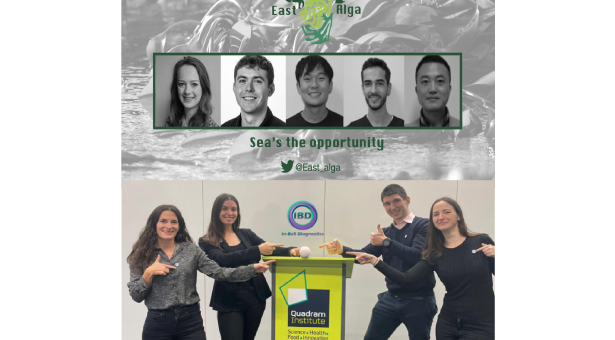 The Biotechnology Young Entrepreneurs Scheme (Biotech YES) competition allows postgraduate students across the country to learn how to develop a novel scientific idea into a successful hypothetical business, while gaining business acumen and networking with stakeholders along the way. Two teams which included NRPDTP students were winners in the 2021 finals.
Emily Tipper was one of five PhD students from the John Innes Centre  making up  team East Alga.  Their proposed business plan offered a sustainable solution to reduce methane emissions from cattle, by extracting natural compounds from kelp with their novel biorefining method. In addition, the waste biomass can be sold as kelp-biochar to farmers and landowners. Both products allow the customers to profit from trading carbon credits. Throughout the process, the team had numerous meetings with serval mentors and attended a 3-day workshop that was organized by the Nottingham University Business school in collaboration with Syngenta. In the final, their pitch was very well received, and they won the award for the "Best plant, microbial and environmental business plan" by Syngenta. The competition was a great experience for them to not only dabble in a hypothetical biotech business without any risks, but also to network with industry and business experts. Their thanks go to the JIC Training Programme for funding the project.
Glória Máté-Koncz and Ariadna Miquel-Clopes were two NRPDTP students making up part of the team from the Quadram Institute, called 'In-Ball Diagnostics'. In-Ball Diagnostics offers a home-based kit to detect protein biomarkers in stool  directly in the toilet to diagnose and monitor Inflammatory Bowel Disease (IBD). They won the People's Choice award sponsored by Indigo. You can read their blog about the experience here.
The full list of winners is available on the YES website.