ssDNAfrica moves forward as Jade and Ana arrive in Kenya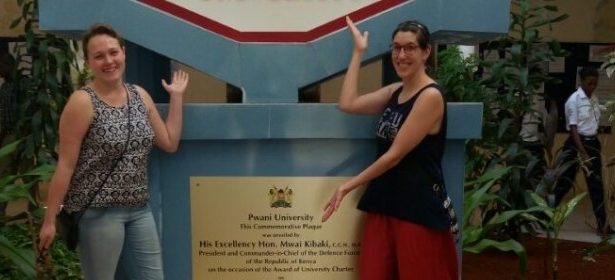 Two DTP students, Ana Bermejo Martinez and Jade Doughty, have recently travelled to Kenya to start a new programme at Pwani University in Kilifi for their PIPS placement.
Following their involvement in the DevSET (Development Scientist Support Exchange Team) training programme Ana and Jade were part of the group who developed ssDNAfrica. DevSET is an interdisciplinary program that brings together early career scientists and international development researchers and was envisioned by Jodi Lilley, Matt Heaton and Chris Darby from the John Innes Centre (JIC) as part of ACACIA (Alliance for Accelerated Crop Improvement in Africa). The program responds to an increasing need for collaborations between those who have the technical expertise and those who understand how to implement it.
Ana and Jade began their PIPS in September and have kicked off a pilot program at Pwani University, involving two projects, one teaching focused and the other MLE (monitoring, learning and evaluation) focused.
Ana and Jade are documenting their experiences in a blog, which can be found here https://ssdnafricablog.wordpress.com/