Postgraduate Student Fair, 18th November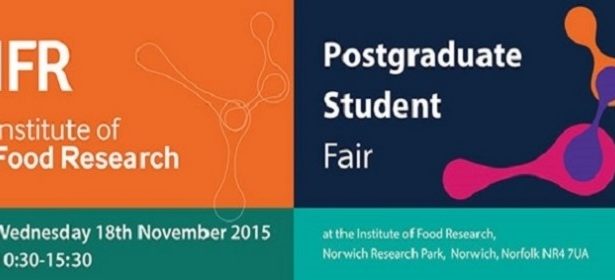 The Institute of Food Research is inviting anyone interested in studying for a PhD studentship to its Postgraduate Student Fair on Wednesday 18th November.
Travel bursaries are now available for prospective students to attend.
IFR currently has a number of PhD studentships available, to start in October 2016, including 15 through the Norwich Research Park Doctoral Training Partnership.
These studentships are an excellent opportunity to start your career working with world class scientists, in one of Europe's leading centres for research into food, health and the environment.
PhD Studentships are multidisciplinary, and you will become part of a community of 3,000 scientists across 5 world-class institutes, including one of the UK's largest teaching and research hospitals and the University of East Anglia, a global top 1% university. Projects include opportunities for internships and a professional development programme.
A list of available studentships is here
To help prospective students find out more about IFR, the projects, and the wider Norwich Research Park, IFR is holding a Postgraduate Student Fair. This will be a chance to meet current PhD students, and also talk to prospective supervisors. You will also get the chance to hear about how the DTP studentships provide an excellent start to your career, and how we support our students to get the most from their PhD studies. You can also tour the facilities and find out about the exciting future for food and health research in Norwich, and how your studentship here will be a part of that.
If you're interested in coming to the IFR Postgraduate Student Fair, please email dawn.rivett@nbi.ac.uk to reserve your place.