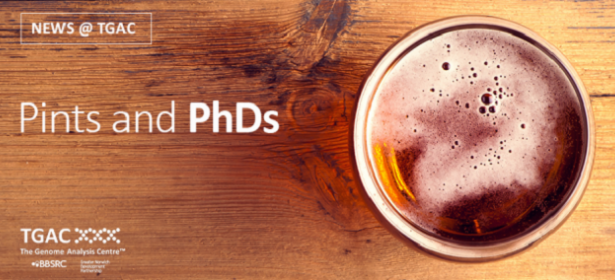 On Tuesday 26 January, three scientists from The Genome Analysis Centre (TGAC) helped kick-off the first instalment of 'PubhD' at the Cellar House in Eaton, Norwich.
A varied local audience, joined two TGAC PhD students, Thomas Bradley and Maxwell Rogers, to learn about the breadth of TGAC's research through a series of talk. Facilitated by TGAC Public Engagement and Society Officer Peter Bickerton, the session showcased topics from fascinating fish and orchestra of life to the wonders of microalgae, followed by some in-depth questions, answers and dialogue.
A national campaign, PubhD aims to help PhD students explain their research to a lay audience using just a whiteboard and marker pens. The idea is to get across the main focus of their research in terms that anyone can understand before members of the public get the chance to quiz them and discuss over a drink or two. Considering the importance that PhD research has on the bulk of published science, as well as the famous discoveries that have occurred over a pint in the pub (the structure of DNA for one), where events such as this are an extremely valuable experience.
The audience of thirty people left feeling both engaged and informed, describing TGAC as "worthwhile" and "very far-reaching; looking forward to all the benefits in the future." Various people also expressed their interest in hearing more and signed-up to hear about future TGAC events.
Dr Bickerton, Public Engagement and Society Officer at TGAC, said: "The first Norwich PubhD at the Cellar House was a fantastic success, and many thanks to Victoria for conceiving and hosting the event. We managed to foster a very effective dialogue between our PhD students and the audience, inspiring the audience about the varied and important research undertaken at TGAC. We look forward to bringing more of our postgraduate students along in the near future."
Cellar House Landlady Victoria MacDonald, said: "A great fun and inspirational evening with huge support and some lovely feedback! It was brilliant to see the science 'coming alive' in a social and informal setting. Looking forward to the next one."
TGAC is strategically funded by BBSRC and operates a National Capability to promote the application of genomics and bioinformatics to advance bioscience research and innovation.