Norwich Research Park announces winner of its inaugural Image Library Competition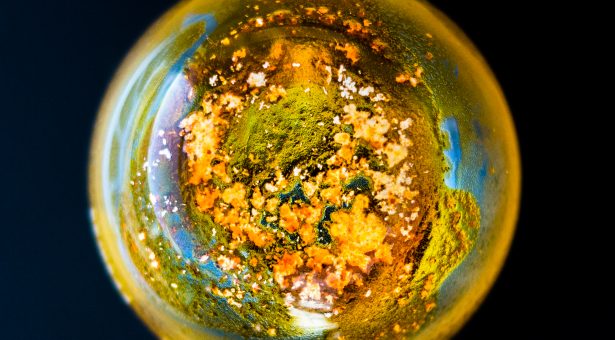 A competition designed to showcase the work of researchers, clinicians and scientists and give the public an opportunity to engage with the diverse range of activity taking place on Norwich Research Park (NRP) has unveiled its winning images.
Twelve entries from the new on-line library which includes images from NRP's Partners (John Innes Centre (JIC), Institute of Food Research (IFR), The Sainsbury Laboratory (TSL), The Genome Analysis Centre (TGAC), the University of East Anglia (UEA) and the Norwich and Norfolk University Hospital (NNUH)) were selected from over 150 images of work which highlight some of the innovative activities taking place on the Park. An overall winner was selected by a panel of judges drawn from the worlds of science, media, art and business.
The striking winning image entitled 'A New Planet' was taken by Thomas Louveau, a post-doctoral scientist in the Department of Metabolic Biology at the John Innes Centre (JIC).
The image was captured during the process of extracting complex chemicals, known as 'saponins' from plants. Saponins have many valuable properties and have been used by humans since the middle ages as cleaning agents and traditional medicines.
Thomas and fellow researchers are applying the concept of synthetic biology to produce saponins in a more sustainable way.
Thomas Louveau, said: "I really like photography and quite often will take my camera with me into the lab. This is how I started a small series of pictures focusing on plant extracts in laboratory glassware. When dried and sitting in a round flask, leaf extracts look very colourful due to many different pigments.
"Under the right lighting conditions, in front of a dark background, the bottom of the flask really looks like a little planet."
NRP scientists work together at the forefront of research on global environmental change and its effects on biodiversity and on agriculture. Academic researchers also collaborate closely with doctors on the Park to understand the relationship between the food we eat and our health and identify how changes in our diet might prevent the onset of chronic diseases such as cancer or diabetes. The chosen images represent the diversity of this research.
There is world leading expertise on the Park investigating the astonishing spectrum of complex chemicals made naturally by plants and microorganisms.  Some natural chemicals are already harnessed for a wide range of purposes from curing major diseases to being natural sources of 'green' materials.
Dr Jenni Rant, project manager at the Science Art and Writing (SAW) Trust, a cross-disciplinary science engagement charity coordinated the competition in conjunction with staff at Norwich Research Park.  Jenni said:
"It is fantastic to see so many new images on the site and the array of interest in them. Developed just over a year ago by my colleague Joe Guynan, the site has continued to grow in popularity and as a result now has an enviable reputation as a creditable source of research images."
Professor Anne Osbourn, director of Norwich Research Park Industrial Biotechnology and Bioenergy Alliance (IBBA), and founder of the SAW Trust, chaired the judging panel:
"Scientific research generates a wealth of beautiful and interesting images that can provide a very effective starting point for building an interest in science. At Norwich Research Park we work on diverse scientific projects that address local and global issues and we want to share our projects with the wider public."
Chris Hann, professional artist and principal art examiner for Cambridge International Exams who was a member of the judging panel said: "The quality and range of images submitted for the competition has been quite staggering. The image library is a great resource, and it illustrates the breadth of research that is being conducted on the Park and makes it accessible to a completely new audience."
Norwich Research Park's business development director and fellow judge Dr Kenny Lang added: "The image library will keep increasing its collection of compelling images as researchers at Norwich Research Park continue to tackle 21st century global challenges. It is a superb resource, which offers a very visual introduction to some of the ground-breaking work being carried out here on the Park."
Thomas' winning entry will shortly be on display at NRP's Centrum building and all twelve images will be published in the NRP 2016 calendar. The winning entries and many more images are available at images.norwichresearchpark.ac.uk
TGAC's top 12 entry of the SMRT cell technology, of the 150 images submitted, can be found here.
Photo credit: Thomas Louveau, John Innes Centre