New paper published for Sam Ellis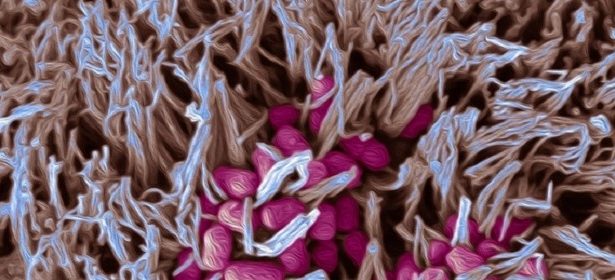 A recently published study has found some evidence that enterohaemorrhagic E.coli (EHEC) may be able to evade or suppress our immune system.
EHEC (aka E. coli O157) causes around 1200 cases of food poisoning in the UK every year. Symptoms are serious, ranging from diarrhoea to acute kidney failure and neurological damage. Outbreaks can be hard to trace; one current outbreak has affected over 100 people but the exact source has yet to be identified. EHEC is a particular problem as there is currently no treatment.
To help address this, Dr Stephanie Schüller from the Institute of Food Research and the Norwich Medical School at the University of East Anglia is leading a team of researchers studying how EHEC, causes disease in our body. Sam Ellis, a DTP student in his second year,  was involved in the preparation work for this.
For more details, visit http://www.ifr.ac.uk/news/latest-news/2016/07/little-gut-reaction-enterohaemorrhagic-e-coli/ 
Reference
Flagellin Induces β-Defensin 2 in Human Colonic Ex vivo Infection with Enterohemorrhagic Escherichia coli, Steven B. Lewis, Alison Prior, Samuel J. Ellis, Vivienne Cook, Simon S. M. Chan, William Gelson and Stephanie Schüller, Frontiers in Cellular and Infection Microbiology doi: 10.3389/fcimb.2016.00068
Image: Scanning electron micrograph showing EHEC (red) adhering to human intestinal biopsy epithelium. Image by Steven Lewis and Stephanie Schüller