New paper for Michael Giolai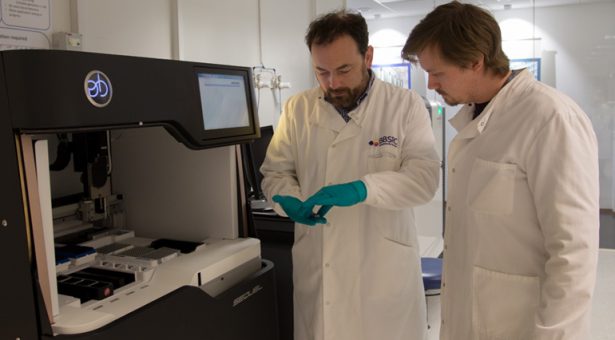 Scientists have developed a new improved method for capturing longer DNA fragments, doubling the size that can be analysed for novel genes which provide plants with immunity to disease.
RenSeq (1) is a method to sequence Resistance (R) genes that confer disease resistance in plants.
Each plant typically carries hundreds of potential R gene sequences, encoding NB-LRR proteins, identified by the presence of specific sequence motifs. R genes are often members of families of closely related sequences.
While shared sequences make it possible to capture the R genes, it also makes it hard to tell them apart and find the exact gene that enables plants to survive attack. Longer molecules and sequences of DNA allow easier and more accurate genetic analysis to identify variation between the genes.
The NB-LRR gene family enables plants to withstand infection from a suite of diseases and form a second line of defence. After a pathogen has managed to invade a plant, it uses 'effector' molecules to weaken a plant's defences – the R gene proteins recognise these 'effector' molecules and signal to the plant to activate defence responses – killing cells around the site of infection in an attempt to stop it spreading.
This constant evolutionary arms race between plants and pathogens, whereby the organisms causing disease in plants are mutating to avoid plant defences, causes the plants to evolve through changes in their own genetic makeup. This is where a huge variety of R genes come into play that are highly similar in structure and DNA sequence.
Researchers at the Earlham Institute (EI), The Sainsbury Laboratory (TSL) and the James Hutton Institute, have found a new way to decipher these large stretches of DNA to discover and annotate pathogen resistance in plants.
For the full story, visit http://www.tsl.ac.uk/news/second-line-plant-defence/