James Taylor represents Great Britain in the European Duathlon Championships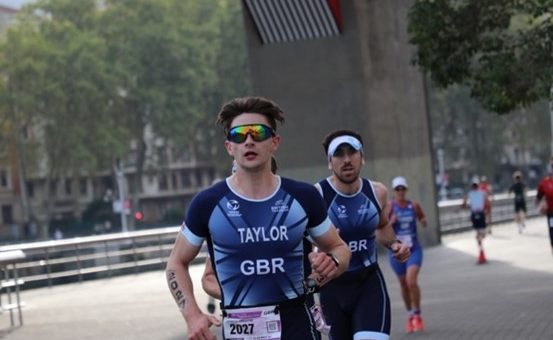 For James, as someone who's always taken a keen interest in social sports, the Covid-19 lockdowns presented a bit of a challenge. But let's not get into that, no-one wants to hear about lockdowns again. The long and short of it was that like many people, James took up running.
At first James was just enjoying some easy plods and getting outdoors, but after gradually increasing his distances (and learning how to sweet talk cows to move off rural paths around where his parents live) he knew he'd struck gold. Before long he'd also got into cycling and when the world opened up again, he joined the UEA triathlon club. James would soon discover that triathletes (noun, people who don't realise that one sport is enough) are a fantastic bunch and would encourage him to compete in a range of races over the following two years.
After some rigorous training James managed to tick two goals off his list that a year prior he'd have thought a physical impossibility: 1) the David Goggins challenge – Set by an ex-navy seal ultrarunning enthusiast, this challenge was to run 4 miles every 4 hours for 48 hours (that's 77km in total). James and his partner did this together to raise money for the charity Mind; and 2) a half-ironman (1.9km swim, 90km bike, 21.1km run). As his first triathlon, this was a fantastic event and solidified his love for multi-sport races.
Over the rest of the summer James continued to train hard and raced in smaller triathlons and duathlons (run, bike, run). He even decided to race at a qualifying race for the 2022 GB age-group European Championships for standard distance duathlon (10k run, 40k bike, 5k run) and was lucky enough to qualify.
Fast forward one year and James has now completed the European Champs in Bilbao, Spain, and what an experience. Stood next to athletes from across Europe at the start line in Bilboa wearing his GB trisuit was certainly a special experience and not one he'll be forgetting any time soon. The race itself was fantastic and he was happy to finish with a massive personal best.