Hans Pfalzgraf wins the FameLab regional finals in Cambridge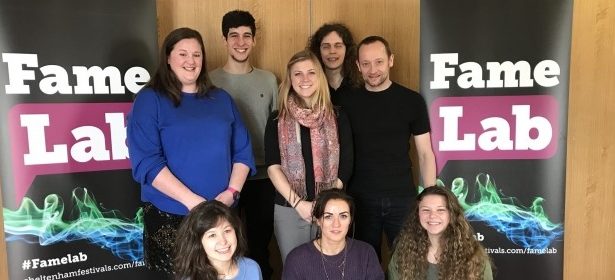 Hans Pfalzgraf is a 1st year PhD student in BIO, currently working with Andrew Hemmings and Anne Osbourn on discovering the structure of oat enzymes. He participated in FameLab, an international science communication competition started by the Cheltenham Science Festival. Contestants have three minutes to explain a STEM concept in an engaging and entertaining way, using nothing but the props they can carry on stage. They are evaluated on content, clarity and charisma.
After a talk about how understanding DNA coils can help you untangle your cables, Hans was one of 10 speakers to qualify for the Cambridge regional finals. Using 'poison' cards and blu-tack, he explained to an audience of 100 how the technology he worked on at UCL could make better antibody-drug conjugates and reduce the side effects of chemotherapy.
This talk convinced the judges to put him forward as the Cambridge regional finals winner. This earns him a free week-end masterclass in Cheltenham and a chance to compete against the 6 other UK finalists at the London Science Museum on the 25th of April. You can book your free ticket here: https://www.sciencemuseum.org.uk/see-and-do/famelab-uk-final-2018