DTP Summer Conference Goes Off With a Crunch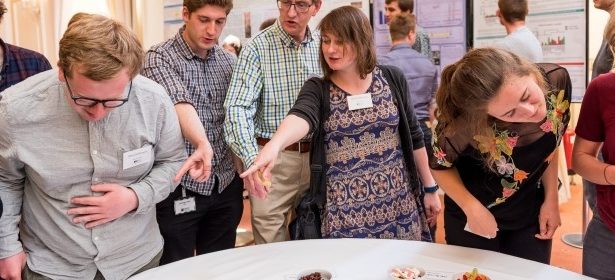 The annual NRPDTP Summer Conference took place at the Assembly House, Norwich on 15th June 2017.
The theme of the conference was Agriculture and Food Security, with talks from a range of noted speakers across the discipline. Professor Appolinaire Djikeng, the former Director of Biosciences Eastern and Central Africa (BecA) gave the keynote speech on Addressing Food Security Challenges in Sub-Sarahan Africa. This was followed by Dr Jim Sumberg of the Institute of Development Studies, Sussex, who spoke on Agronomy & Knowledge Politics: Implications for Food Security in Africa.  After the break, Dr Adam Staines gave a BBSRC perspective on Agriculture and Food Security Funding in the UK, Through ODA and Beyond. Dr Julie Flood provided a talk on Food Security and Plant Health, drawing on her experiences as Senior Global Director for Trade & Commodities at CABI. Afternoon speakers were Dr Jodi Lilley, who spoke of the DEVSet initiative at John Innes Centre (JIC), and recent alumnus Peter Emmrich concluded the talks with a presentation drawing on his own experiences at BecA.
The buffet lunch was supplemented with an interesting addition of a Crunchy Critters tasting session, which aligned with the pre-lunch talk from Dr Nigel Poole of SOAS on Agriculture and Food Security – Yes, But What About Nutrition and Health?. The diverse snacks on offer included locusts, crickets, flying termites and leafcutter ants. The insects proved a popular addition to the lunch, and some attendees were even spotted supplementing their afternoon cake with a sprinkling of crickets…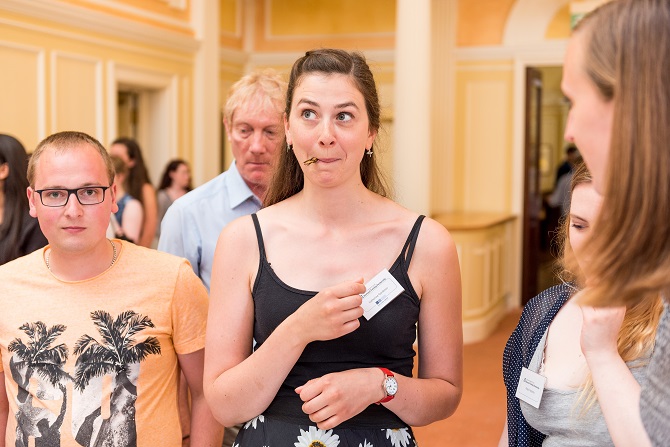 The afternoon workshop focused on the theme From Bench to Barn, in which groups were invited to implement an agricultural or food security based discovery in developing countries – considering any scientific, social, cultural and economic ramifications. Workshop groups were facilitated by the speakers, and an animated presentation session ensued in the afternoon.
As in previous years, third year students were asked to bring along posters on their research, which were then voted on by attendees throughout the day. Prizes for the three posters with the most votes were awarded by Dr Rob Hardwick from the BBSRC. Prizes went to Eleni Vikeli (JIC, 1st prize), Tom Eyles (JIC, 2nd prize) and Sam Ellis (QIB, 3rd prize).