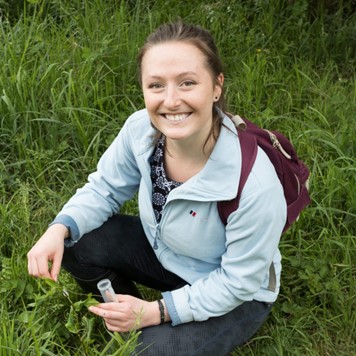 Project Title: Looking for novel beetle resistance in mustard plants

Supervisors: Prof Steve Penfield, Dr Rachel Wells
I did a combined undergraduate master's at the University of Sheffield in Biology, where I was able to explore my interests in conservation, ecology and zoology. It was whilst on a year abroad in Australia that I really got to explore the field of insect research: Entomology. This opportunity highlighted the deep-routed love and interest I had for insects.
After my degree, I gained a role working as a Research Assistant in JIC's Entomology Platform. My job was half insect husbandry for a variety of in-house colonies, and half running experiments involving said insects. It was here that I saw the potential for insect-based research in, particularly, applied agricultural settings.
The Cabbage Stem Flea Beetle (CSFB) is a major pest of brassica crops including oilseed rape and cabbages. My PhD is looking into novel forms of resistance to CSFBs in the wider brassica relative, mustard. Whilst the project utilises the insect knowledge I already have, I am learning new skills from the plant science world including genetics, plant breeding methods and molecular techniques.
I am a CASE student and I chose this project as I can combine my insect interests with solving a real agricultural problem. It also gives me the opportunity for an extended industrial placement with my sponsor company to see how my research supports real-life agricultural systems.