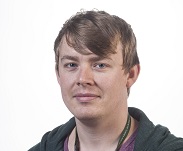 Project: The role of endothelial integrins in the angiogenesis of bone.
Supervisor: Dr Stephen Robinson
I'd always had a keen interest in human physiology which led to me to choose the Biomedicine BSc at UEA. I thoroughly enjoyed my research project and decided to pursue a career in research.
I enrolled on the Molecular Medicine MSc at UEA where I worked on the role of ADAMTS extracellular proteases in angiogenesis. I found the importance of angiogenesis in physiology and a wide range of pathologies fascinating and wanted to become more involved with the field. I chose this project to work with physiological angiogenesis in more detail, by characterising the role of ?v?3 and ?5?1 endothelial integrins in bone angiogenesis we hope to inform future work looking at therapies for metastatic cancers.
I chose the NRPDTP because I knew from my previous work experience how valuable the research park could be when conducting a research project. It now feels great to be part of the community in a world class group of research facilities.